Android 2.3 Gingerbread vs. Android 4.0 Ice Cream Sandwich
When the Android 2.3 Gingerbread first appeared, it was a really big deal. But then Google released a new version, dubbed 4.0 Ice Cream Sandwich, and it was an even bigger deal for smartphone users. Which of the two versions is better? Find out below.
What first strikes you when using the two Android operating systems is the way their user interfaces look. Compared to the 2.3 Gingerbread, the 4.0 Ice Cream Sandwich is overall more appealing. And it was rather difficult to locate the most used keys on the previous version.
The font used by the Gingerbread was not the best one. Google took notice and made it a whole lot better. It is known as Roboto. This font has the great advantage of assuring a smooth experience. Which is achieved via intuitive gestures. Roboto does other thing: it helps the user read stuff in a much more pleasant way.
The usability
It is now much easier to create a folder. And you can also give a different size to a widget. Two things that the 2.3 Gingerbread does not offer. What is more, the Widgets and Multitasking features of the older version have received updates so they can deliver a better performance.
Another novelty the 4.0 Ice Cream Sandwich brings to the table is a way to see how much network usage your smartphone is eating up. And that is done via Data usage controls. These take into consideration the app and the type of the network you're using and you are able to set a limit on how much they consume via a graph that is easy to read.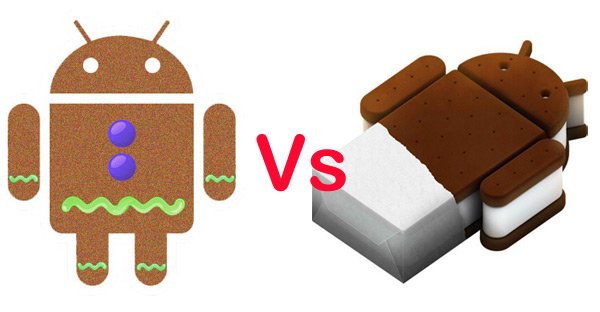 If you have a lot of tabs, apps and so on open in your phone, browser and such, you can control them all with the help of a list found in the OS's System Bar that's linked to something called The Recent Apps. And there's the possibility to send send videos, photos and whatnot to someone close by by touching your and that person's smartphone. In the case of the Gingerbread OS, that was done via emails. With the Ice Cream Sandwich, things are even easier if you use it on a phone that offers NFC.
The improvements
The contact list is not so dull as it was on the 2.3 Gingerbread. You get all sorts of features with the Ice Cream Sandwich through an app called People. You can add a profile pic that is larger, a button via which you can connect on Facebook, Twitter and so on. You can also add status updates with ease. If you want to unlock your device with your face, you can do that with Face Unlock. This option makes sure that only you can gain access to your phone, not your family or friends like on the Gingerbread OS.
Android's 4.0 Ice Cream Sandwich is also a whole lot of fun and funnier than the previous operating system. Because it comes with Live Effects. This is a great way to fool around by yourself or with a dear person. By using the Camera app, you can turn yourself into an animal and other fun things after you've taken a photo or shot a clip.
Conclusion
Sending emails to people at work or at home becomes a vastly superior experience. You are offered an email widget that can be given the size you want, the responses are faster and there's auto-completion. Among many other pros. These actions, like all the others that you perform on your phone, are performed in a faster way compared to the slow speed offered by the Gingerbread OS. Which is a very welcome improvement for any smartphone user out there.
At the end of the day, the 2.3 Gingerbread and the 4.0 Ice Cream Sandwich are two Android operating systems with many differences between them. If you want speed, features, face unlock and other modern options, then get yourself a smartphone with Android 4.0 Ice Cream Sandwich has added quite a large amount of new features. With that being said, the Ice Cream Sandwich installed on it. If you want a simpler OS and speed and fancy features are not your cup of tea, then buy a phone that has the Gingerbread.