How to Flash Android 4.4.2 XXUANE1 on Galaxy Note Pro 12.2 LTE SM-P905
If you're up for updating Galaxy Note Pro 12.2 (LTE) SM-P905, you will find below an upgrade tutorial just for your device!
An update is very appealing, especially if you want new stuff on your tablet. Your device has been missing out on many things. Android 4.4.2 KitKat XXUANE1 stock firmware will bring all of them to your Galaxy Note Pro 12.2 SM-P905. This new firmware is official and it must only be used if your tablet is the one previously mentioned. A gadget sporting another name will be damaged if this tool is installed on it!
The upgrade method we're using is headed for France. It comes with a KIES logo turned on. As such, you can use the KIES method if you prefer it over a guide. If you don't have stock ROM on your device, you'd better not use Samsung's KIES software. Released earlier this month, the new firmware will damage your tablet if the latter's got root access. The damage means a revoked root access and a deleted system partition. But it also means new features, customization tweaks, new apps and much more. Once an update is performed, battery life will be far superior. And your tablet will not have its internal / external SD cards affected; important data won't end up erased.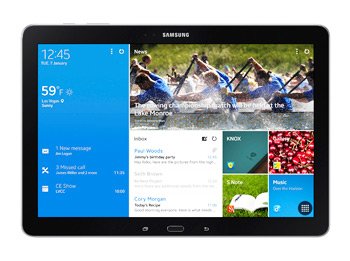 Prerequisites
In order to complete an update, your gadget must experience these pre-requisites:
Windows needs to be installed on the notebook beforehand;
disable the programs that protect your tablet from viruses and the like;
turn off those programs that do the same for your laptop;
make backups to take care of the tablet's important content;
follow these tips to make a full NANDroid backup;
your Galaxy Note Pro 12.2 (LTE) SM-P905 has to run with a fully charged battery;
go to this address and download USB drivers from there on your laptop;
enable, on the tablet, the option called USB Debugging.
Step by step instructions
The upgrade procedure needs some steps to be done.
The first of them asks you to get the Android 4.4.2 KitKat XXUANE1 official firmware for France (file name: P905XXUANE1_P905XEFANE1_XEF.zip) and then Odin v3.09 from this page on your notebook. One of them is on this page, while the second one is on this website.
If the two are on your device, make sure they're unzipped afterwards. After you use WinRar for this, look for Odin3 v3.09.exe and open it on the laptop when the unzipping is completed. Move on with the following task: boot your tablet in Download Mode via some instructions.
They're as follows: press and hold, at the same time, Home, Power and Volume Down, let go of all 3 of them and press Volume Up as soon as a boot message appears.
Your next move is this: plug the Samsung SM-P905 to the notebook. A USB cord which comes with the tablet must be used for this connection phase.
Odin is the one to locate the gadget and then tell you of the plugging's success via a blue sign. If both products are connected, you need to add the firmware file to AP / PDA.
Once done with that, continue like this: check Auto Reboot, check F. Reset Time and uncheck Re-partition. The next step tells you to click on "Start". What will happen after you do this: the update will begin.
The new firmware is going to be installed on your tablet in the meantime. This process doesn't need more than 15 minutes. If more than 15 minutes have passed, consider repeating the guide.
Should the installation end, your tablet's screen will have this message: "Pass". If the latter has already popped up, wait until the tablet starts again.

Now you should go ahead and take the USB cable out. This way, your tablet and laptop won't be connected to one another. Which means that you can finally launch the new firmware.
To open the Android 4.4.2 XXUANE1 on your Galaxy Note Pro 12.2 SM-P905, do this: tap Settings and About Tablet. The firmware will be displayed and you can tap it.
After you check out the new features, apps and such, you'll know if the update is to your liking. If it's not, you have the NANDroid backup file to use for the old ROM's restoration. When the previous ROM is back, the upgrade process shall be revoked.
For your questions we have a comment section under today's guide.