Chinese Goophone i5 is iPhone 5 clone
Out of the blue, a Chinese company wants to sue Apple in a Chinese court. That's definitely not something you hear every day.
Goophone is the name of this manufacturer who wowed many people with their plan. This company is known for bootlegging gadgets. They were the ones who even made an iPhone 5 clone long before the actual release of Apple's much anticipated phone. And things might just not look that splendid in the near future for the American manufacturer. That is, if this is not a whole laughable prank.
Here's the deal: Goophone recently announced that they will take things to court if the iPhone 5 will land in their homeland any time soon. The company even filmed a clip about this whole allegation and then quickly uploaded it to famous site YouTube. So that everyone can see it. Yes, even Apple. But Ubergizmo saw it before the latter. However, the problem is: no one can understand what the person in that clip is saying. But other people who actually managed to make heads and tails of what he was trying to say reported that the idea is this: the iPhone 5 made by Goophone, named the i5, and everything on it are the result of independent work that the company did all on their own for a long time.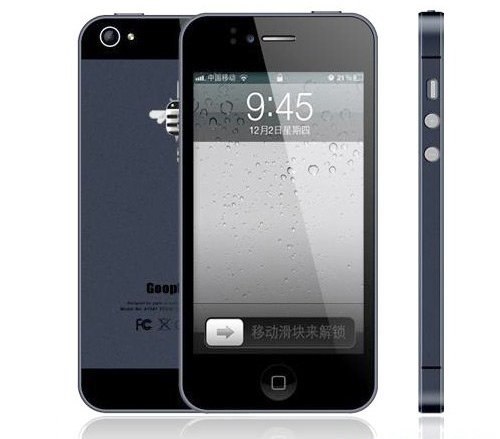 So now people are left wondering whether what the person was announcing in that clip was true or just a really, but really, funny announcement to make Apple feel stressed out for nothing. Because if this is all true in the end, then Apple might face a trial in China pretty soon. And they wouldn't want that now, would they?
The specifications of the Goophone i5 were also presented in that YouTube clip. So it kinda looks serious. These specs look something like this: a 4″ IPS touchscreen with a resolution that includes a total of 1,280 x 720 pixels, a 1.4 GHz quad-core Tegra 3 CPU, the Android 4.0 Ice Cream Sandwich operating system, 1 GB of RAM and two cameras, one a 1.3-megapixel and the other a dual 8-megapixel for different purposes.
Then again, there are many other people who think that the new Goophone i5 is all a joke. Either way, this whole situation is very hilarious. Maybe not for Apple, if the Chinese party's claims are true, but definitely funny for consumers.
We will definitely follow this story up, because it's too good not to be followed from now on.