How to Flash Android 4.1.2 UHANA2 on Galaxy Pocket Neo GT-S5310E
Galaxy Pocket Neo GT-S5310E has what it takes to make you like it. However, it misses one thing: Android 4.1.2 Jelly Bean, the latest version. This variant is now ready to be installed on your phone, so make sure you grab the update!
The new OS is equipped with UHANA2. This firmware can be added to your handset after you make sure you're using the Samsung GT-S5310E instead of any other model.
The UHANA2 can be used by every owner of this phone who lives in Chile and uses Entel PCS. The drawbacks to using this firmware on a rooted handset are as follows: root access will be revoked and the system partition will be erased. But the important files on your device won't be lost; nothing will happen to the phone's internal and external SD cards, either.
Our tutorial or OTA can be used for the upgrade. KIES software can't be used. If you're wondering whether your smartphone must have stock ROM for the OTA: yes, it must. We don't ask for that in our guide.
When the Android 4.1.2 is among the phone's specs, you will enjoy many new things. Such as mini apps, extended Vsync timing and a vastly enhanced keyboard. This is not all: a fixed frame of 60 fps, triple buffering and all share will be added to your smartphone, too. As will these: automatic adjustment for the size of widgets and free style widget. Pop up play, Google Now as well as group cast will also land on the device. The last to appear there are touch anticipation together with this: sync and connect email updates.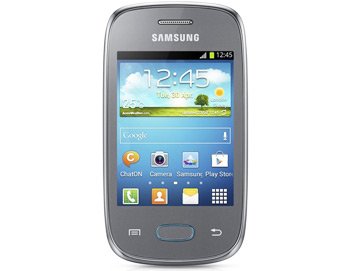 Prerequisites
Requirements:
turn on USB Debugging on the phone;
if your laptop is running Windows as an OS, great (other OS versions won't work with this guide);
download USB drivers for your handset on the laptop by going to this page;
the Galaxy Pocket Neo S5310E needs to have a fully charged battery;
turn off, on the handset, those security programs that are flashed on it;
disable them on the laptop, too;
create a normal backup and then make a full NANDroid backup.
Step by step instructions
The update requires two packages for download on the notebook you're using. They are the Jelly Bean Android 4.1.2 UHANA2 for Chile (Entel PCS) and Odin v3.09, from this page. When your notebook has them, make sure you save them and then unzip them with WinZip.
We now ask you to open Odin v3.09.exe on the laptop and enter, next, the Galaxy Pocket Neo GT-S5310E in Download Mode.
Which is done by pressing and holding, at the same time, Home, Power and Volume Down. After you notice a boot message come up, the previous task must be ended and you should press Volume Up instead.
The step that comes up next required you to plug your phone to your notebook with the USB cable of the Galaxy Pocket Neo GT-S310E.
In the next couple of seconds, a blue sign will make an appearance in Odin. After this connection is created between your devices, make sure you add the firmware file to the AP / PDA.
The following step tells you to tick F. Reset Time and Auto Reboot. After you uncheck Re-partition, you need to commence the installation of this official ROM on the smartphone.
Which requires you to click on "Start". Then just have patience until "Pass", a message in a green background, pops up on the display. The second element to indicate a successful flashing is your handset rebooting.
You are now ready to end the guide with the last step. According to it, simply unplug the Galaxy Pocket Neo GT-S5310E from your notebook.

To experience everything the new operating system has to offer, you should tap Settings, tap About Phone after that and find the Jelly Bean 4.1.2UHANA2 official firmware. Open it next, then give it a spin on your smartphone.
The NANDroid backup file we specifically asked you to make will be useful when you start to dislike the new OS. Use it so that your phone's old ROM can come back to it. When you decide to use this file, the update process will be revoked.
To get answers to your questions, or if you want to comment on something, try our comment section below!