How to Flash Android 4.4.2 XXUANB3 on Galaxy Note Pro 12.2 SM-P900
If you want something new for your Galaxy Note Pro 12.2 SM-P900, why not try Android 4.4.2? Especially with XXUANB3 just launched for Southeast Europe and Uzbekistan!
First, allow us to introduce the reasons why you should have the Android 4.4.2 on your tablet: new features, new apps and no App Ops application. The latest Android version also deals with tweaks that will be of help with the tablet's battery, making it last longer. You can, with this OS on-board your gadget, personalize it any way you see fit.
To make sure the update goes as planned, the device you install the XXUANB3 on must be the Galaxy Note Pro 12.2 SM-P900. If it's not this model, you will brick whatever other gadget you may use.
The firmware has a deactivated KIES logo. This practically leaves you with only two update methods: this tutorial or OTA. If you consider the second option, your tablet must be running a stock ROM.
The update will not only bring novelties, it will also damage your device. But only if it's rooted. If it is, expect the following: deleted system partition and a revoked root access. These are the only drawbacks you'll have to experience as soon as the upgrade's over. Good news: your tablet won't lose its important data or internal/external SD cards.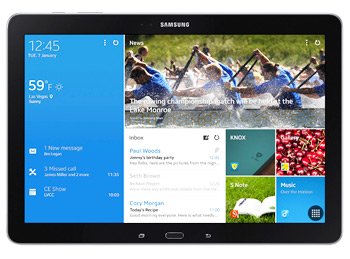 Prerequisites
Prepare for the upcoming update steps by dealing with these requirements:
all of the security software flashed on the tablet and laptop should be deactivated for the time being;
save the tablet's important content by performing some backups;
create a full NANDroid backup using these tips;
Windows is the OS we accept for our guide, so make sure it's running on your laptop;
your notebook must feature USB drivers fit for the Galaxy Note Pro 12.2 SM-P900, so get them from this page;
your tablet's battery unit must be charged;
turn USB Debugging on.
Step by step instructions
All pre-requisites aside, time to begin the upgrade to the new OS.
We advise you to download, for the first step, these files on your laptop: Odin and the KitKat 4.4.2 P900XXUANB3 for and . After the download is over, save these packages. Later on, use WinRar to unzip their content on the laptop.
Enter, for the following step, your tablet in Download Mode. Use this simple method: simultaneously press and hold Volume Down and Power; a warning screen should pop up in the next couple of seconds, which means that you should press Volume Up.
Your turn to do as follows: right-click on .exe file, tap "Run as administrator" and wait for the Odin file to be launched as an Admin on your notebook.
When that happens, time to establish, using the tablet's USB cord, a connection between this gadget and your notebook. When you spot neither "Added!!" or an ID:COM box (in blue or yellow), no connection has been established.
But don't despair, you can always try again till it happens. To do as such, you should either install the USB drivers once again on the laptop or choose another USB port.
You will now need to tap BL, choose a file with BL in the name and tap AP. You should then do as follows: opt for a file containing AP in the name, tap CP, choose a file with CP in its name, tap CSC, choose a file which has CSC in the name, click on PIT and select a file with an extension called .pit.
Check these set of boxes afterwards: F. Reset Time, Auto Reboot and Re-partition. All done with this phase? If so, then move on by looking for "Start" and tapping it when it appears. By clicking on this option, the installation of the XXUANB3 can officially commence.
At the end of the firmware's flashing, your Galaxy Note Pro 12.2 SM-P900 is sure to automatically come back to life. Its touchscreen should have "Pass" on it (in a green-colored background).
[sc name="banner-jos"]If it does, quickly unplug the tablet from the laptop. Then tap Settings. After this task, tap About Tablet. Now make sure you get yourself accustomed to the new firmware on your gadget.
Should it not bring you pleasure, try and restore the tablet's old ROM. This action will need the NANDroid backup file from before. The update procedure will be revoked as a result, so think this through.
Our comment box below is prepared to receive your questions!