Flash CyanogenMax JB ROM for Samsung Galaxy Tab 2 10.1
The Samsung Galaxy Tab 2 10.1 can be flashed in a very simple manner. You won't need a manual to do it. We will tell you how to do it, but before that we'll inform you on all the elements you need for a safe and accurate installation process.
The custom ROM that makes it all possible was named CyanogenMax JB by its creator, a developer on the XDA Developers forum. This solution is a great way to enjoy Samsung's tablet if you've never used this gadget before. From what we saw, using it means that you get to play with the Galaxy Tab 2 10.1 and enjoy faster speeds than before.
Requirements
We compiled a list of what you need to have on this gadget before installing the custom ROM. Here they are: a backup of every single important data and a full charge of the battery. Then there has to be ClockworkMod Touch Recovery installed and also these files: and CyanogenMax JB ROM file for the same model (a file called ).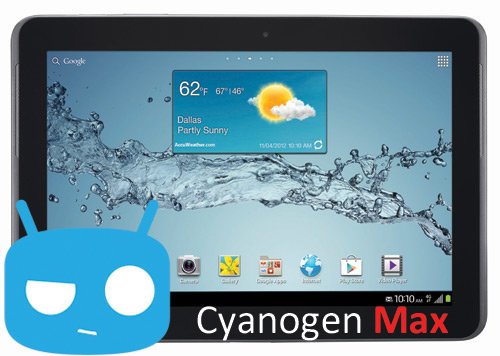 The steps needed to install the CyanogenMax JB on the Galaxy Tab 2 10.1 are right below. Don't forget that you must follow every single one of them.
Important instructions
For the first step you have to move the GApps pack (available here, too) and the ROM file to the internal memory card of the tablet.
Step 2 asks the user to switch the Galaxy Tab 2 10.1 off after you're done with the copying part. Once this is finished, make sure to enter into the ClockworkMod Touch Recovery, using the well known method: selecting at the same time the buttons for Volume and Power till you see the logo of the device.
In step 3 you have to let go of the Power key and keep pressing the button for Volume Down.
Up next is the fourth step, for which you need to make a full NANDroid backup of the device original ROM by opting for Backup and Restore.
For step 5 you must choose Backup when you see a screen coming on.
Step 6: return to the device's recovery menu. Next: choose Factory reset/Wipe data; this will have to be confirmed.
For the seventh step do the following: opt for Advance, Wipe Dalvik cache and confirm all of this looking to what is happen on the next screen. After you are finished with this part, choose Wipe cache partition and do a confirmation of this, too.
Step number 8 tells us to choose Install ZIP from SD card, then Choose ZIP from SD card.
Step 9: opt for the ROM's ZIP file; confirm this action.
To be successful with step 10, do again what you did for steps 8 and 9; this is meant to install the Google Apps package. To finish the installation process, choose the option called Reboot system now.