How to Flash KitKat 4.4.2 XXU1BND3 on Galaxy Tab Pro 8.4 SM-T320
With Galaxy Tab Pro 8.4 SM-T320 being a favorite tablet among many, an update should be considered. Especially when you have the likes of Android 4.4.2 XXU1BND3. This firmware has just been launched for your country. Which region are we talking about and how can you install this tool on your gadget? The answers are offered below!
UK owners of the Galaxy Tab Pro 8.4 T320, gather round. This guide is just for you, but only if you use this kind of tablet. To apply an update on a different model, look for the guide that works with it.
This new official firmware came out this month with a deactivated KIES logo. If the KIES software from Samsung is what you'd like to use today, you won't be able to. Still, there's a method called over-the-air; or OTA in short. Your Samsung SM-T320 has to function with stock ROM if you want to use the OTA solution.
An update to the KitKat OS signifies many things. This particular version is stocked with new features, battery tweaks to improve its life, new apps and so much more. These goodies will be yours to discover in a very short while.
Meanwhile, here's what happens when a rooted device gets an upgrade. From the get-go, your tablet will lose its most important system partition. Its root access will be damaged next. After the latter is revoked, your tablet will still have its data as well as internal / external SD cards.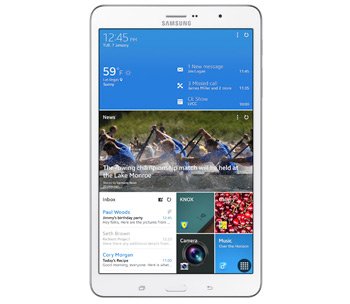 Prerequisites
Your tablet has to experience some crucial preparatory steps. They're called requirements and go something like this:
all of the programs that protect your tablet against security issues must be deactivated on it;
the programs which perform the same task on your laptop should be deactivated, too;
USB Debugging, an option on the tablet, needs to be activated;
the only operating system installed on the notebook must be Windows;
protect the tablet's important files, games and so on by creating backups;
a full NANDroid backup is also a good idea, so be sure to generate one;
charge your tablet's battery unit till it's 100% full;
the laptop you're using must sport USB drivers for your tablet;
they can be found here, so downloaded them on your laptop.
Step by step instructions
With these pre-requisites out of the way, the road to updating your tablet can begin.
Perform the following first: download the and Odin 3.09 from this page on the laptop. Our advise now is to extract each of these two on your laptop, then launch, on it, the file known as Odin v3.09.exe.
Next task on our list is this: boot the tablet in Download Mode. This step works as such: keep Home, Power and Volume Down pressed at the same time and soon you'll come across a boot message. Volume Up should be pressed afterwards.
The laptop you use and your Galaxy Tab Pro 8.4 SM-T320 must have a connection created between them. The tablet's USB cord is going to make all of this happen. As soon as you've used it for this, the Odin will look for the gadget. It will, after a few minutes, display a sign in blue on the screen.
The next task asks you to perform this: add the firmware file to AP / PDA and move on by checking F. Reset Time. Check Auto Reboot and uncheck Re-partition.
The firmware is now prepared for the installation phase. To start everything, click on an option called "Start". This will take approximately 13 minutes. When the process is done, the tablet will contain, on its screen, this message: "Pass".
Your tablet will restart soon enough, so prepare to unplug the devices when that's over. A quick way to have the laptop and your gadget disconnected is this: hold the USB cable and remove it.
The easiest way to get access to the XXU1BND3 is like this: go to the Galaxy Tab Pro 8.4 SM-T320, tap Settings and then select an About Tablet option.
[sc name="banner-jos"]After a couple of seconds, you'll be free to work your way around the new apps, customization options and other Android 4.4.2 goodies!
There's always the NANDroid backup file if you don't like the latest addition to your tablet. After you restore your device's old ROM with this method, the upgrade will be revoked.
We're ready to answer your questions about this tutorial. Drop them – and your comments – under this post!