How to Install Android 4.1.2 XXANC1 on Galaxy Tab 3 7.0 SM-T210
Everything is made better for your Galaxy Tab 3 7.0 SM-T210 as long as Android 4.1.2 is running on it. The procedure presented in today's post introduces you to this OS and the way to have it.
The update will bring varied features for your tablet. The Jelly Bean 4.1.2 is going to appear on your device if XXANC1 is used. The firmware in questions is out specifically for Italy.
Once this new firmware is flashed on the device, you will notice a fixed frame of 60 fps, triple buffering and a new keyboard. A second set of goodies is made of a free style widget and also extended Vsync timing. Group cast is another new feature, as is this one: automatic adjustment for the size of widgets. These are followed by pop up play, sync and connect email updates and mini apps. Another batch of novelties: touch anticipation, all share and Google Now, too.
To avoid going wrong with the upgrade, we strongly advise you to use the Samsung SM-T210 as your tablet. Don't install the XXANC1 on a gadget that has a different name; you will brick it.
Since the new firmware's KIES logo is turned on, your tablet can be updated via the KIES software. If you don't know, using this method means that stock ROM should already be installed on your tablet. If it's not, you can switch to our guide any time you want, because we don't ask for stock ROM.
If the upgrade is accomplished on a tablet with root access, two things will happen. First: root access will be deleted. Second: the tablet will lose its system partition. The internal and external SD cards aren't going to be affected. Thankfully, the tablet will also get to keep its data.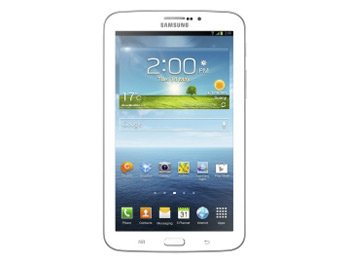 Prerequisites
This leaves us with the next couple of requirements:
to avoid running out of battery life, fully charge your tablet;
Windows should be among the specs of your laptop;
if security programs are enabled on the tablet and the laptop, it's best to have them turned off;
the Galaxy Tab 3 7.0 SM-T21o needs to have an activated USB Debugging;
there are certain USB drivers for your tablet online and they need to be downloaded on the laptop;
create a normal backup and afterwards a full NANDroid one.
Step by step instructions
Now let's begin the guide. First things first: download a bunch of packages on your laptop. Among them are Odin tool, available on this location and the . To continue, you should simply extract both of these packages and open only Odin v3.09.exe on the notebook.
Your tablet must then be entered in Download Mode via a couple of actions. Start by pressing and holding, at the same time, these 3 keys: Home, Power and Volume Down.
The thing that will happen afterwards: a boot message will pop up. So press Volume Up when that appears. Connect the Galaxy Tab 3 7.0 SM-T210 to the notebook with the USB cord courtesy of your tablet.
When a blue sign is revealed by Odin, you will know that the plugging is all done. Move on to this step next: add the firmware file to the AP / PDA. F. Reset Time together with Auto Reboot are two of the boxes which must be checked after you're done with the previous action.
Now for the action that is going to begin the flashing of the XXANC1: tap "Start". And that's it. For the next 13 minutes or so, the installation will do its thing.
If the touchscreen of your tablet has a message that reads "Pass" in green, your gadget will soon restart. If the Galaxy Tab 3 7.0 SM-T210 has rebooted, you should perform one last task. Which sounds like this: tap Settings and About Tablet.
[sc name="banner-jos"]After performing that final step, you will have an updated tablet at last. For now, go on and savor all the changes delivered by the new OS!
If the new OS and its goodies aren't all that great, you can get the old ROM back on your tablet. By way of the NANDroid backup file. To use it, go to where it's saved, then open it on the gadget. If you choose to use it, however, the upgrade shall become unavailable.
If you have trouble understanding something, leave your comments or questions in the comment field below.