How to Install Android 4.1.2 XXUANC5 on Galaxy Trend Lite Duos GT-S7392
As soon as you buy Galaxy Trend Lite Duos GT-S7392, you absolutely have to get the newest Android 4.1.2 for it. That is, if you want to be able to add novelties and customize your device. In case you do, an update is all your phone will need from now on. Check out our tutorial on how it's done!
To begin our guide and have the Jelly Bean delivered on your phone, you must not use a device that's different to the one we have here. Going with another model will only ruin it in the long run. Then you should watch out for some unnerving side-effects if the handset uses a rooting firmware.
Because that implies the loss of root access and your phone's system partition once the update happens. However harsh that sounds, you won't have to deal with other damage. For example, you will get to still use all of your important data and the internal / external SD cards won't be affected.
The novelties
What the upgrade brings on your Galaxy Trend Lite Duos GT-S7392 is this: the XXUANC5 official firmware. Released for Romania (Cosmote) this past month, the new firmware will deliver, among others, triple buffering and Google Now. There's a whole other bunch of goodies: extended Vsync timing, touch anticipation and pop up play.
Looking for more? Look no further: a free style widget and automatic adjustment for the size of widgets are on-board, too. As are a new keyboard, all share and mini apps. Completing the list of novelties are sync and connect email updates, group cast and a fixed frame of 60 fps.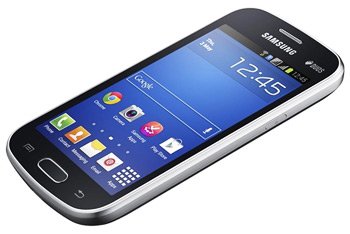 Prerequisites
Before we give you the steps to help with the procedure, do as follows:
you need to turn off the security software pre-installed on the laptop;
uninstall the security software installed on the smartphone;
your notebook must have Windows as its operating system;
the Samsung GT-S7392 has to run on a fully charged battery unit;
the handset's USB Debugging needs an activation;
you need to look for USB drivers for your phone on this site;
download said drivers on the laptop next;
make backups to be able to keep the phone's data intact after the update's over<;
a full NANDroid backup is also always welcome, so create one.
Step by step instructions
So these are all the pre-requisites which are needed to prepare a device for an upgrade.
After each of them has been read through, time for the first step. Your notebook has to land these packages: the Jelly Bean 4.1.2 XXUANC5 for Romania and for Cosmote closely followed by Odin v3.09. Look for an unzipping tool and use it on the packages till Odin v3.09.exe comes out of one of them.
Open said file on the laptop and enter the device, for the next step, in Download Mode. Generally, here's what will boot it in that mode: press and hold Home, Power and Volume Down until you get sent a boot message. Upon seeing this, press Volume Up.
Once you're finished with the previous step, establish a connection between the handset and your laptop. This sort of connection is helped by the USB cord which comes with the phone. You'll be told when the plugging is over, so give this process some time.
Then, once the Odin has a blue sign to display on the screen, you can move on. For this step, make sure you add the firmware file to the AP / PDA, then wait. Activate Auto Reboot and F. Reset Time, uncheck Re-partition and begin the flashing of the XXUANC5 firmware file. "Start" must be tapped for this, then wait for the installation to happen.
The procedure is going to end as soon as there's "Pass" displayed in green background on the touchscreen. Then, when the smartphone enters a rebooting phase, you will know that this device and the laptop have to be disconnected.

Taking the USB cord out will smoothly unplug the two from each other. When you feel ready to see what the Android 4.1.2 XXUANC5 can do for the Trend Lite Duos GT-S7392, tap, on the latter, this first option: Settings. After you're done, tap About Phone. Now experience the update!
If you prefer the old ROM over the new one, it's good to consider restoring it with the NANDroid backup file. Unfortunately, that will also revoke the whole upgrade procedure.
For questions, use our comment box below.