Flash Jelly Bean 4.1.2 XXEMG4 firmware on Galaxy S3 GT-I9300 (Odin, KIES or OTA
Galaxy S3 GT-I9300 is on the right track: it will receive an update to XXEMG4 Android 4.1.2 Jelly Bean via three methods in today's guide.
However, only UK users of this phone may follow our tutorial. One of those methods is manually (via the Odin tool), the second one is Samsung KIES and the last one is OTA.
Requirements
For the purpose of the procedure today we want to first tell you the usual pre-requisites:
own the smartphone model which ships carrier and factory unlocked;
create backups with the same method used for our tutorials (for this you can use, where it applies, your phone's custom recovery);
flash USB drivers for the handset on your PC, via this link;
charge the battery unit;
turn on USB Debugging.
In case your Galaxy S3 I9300 is rooted, the update will lose that status. But worry not: root access is easy to gain back once you root the phone again after the guide is over.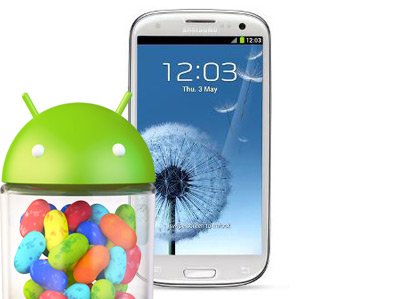 How to install XXEMG4 using Odin
How to update your phone with Odin? Just follow the steps underneath this.
Download these files on the PC:
– firmware archive (file name: I9300XXEMG4_I9300OXAEMG4_BTU.zip);
– Odin tool 3.07 (from this location).
You will soon afterwards have to extract those two zip files and expect these 2 files to pop: Odin tool v3.07.exe and a fie with .tar.md5 extension.
Our guide will now tell you to power the handset off and then to enter it in Download Mode by doing this:
– press and hold Volume Down and Home simultaneously;
– press Power;
– Android will show up in the form of a logo;
– press Volume Up.
Admin rights are now required, so run the Odin tool v3.07.exe as such and plug your handset to your laptop. Be on the watch-out for "Added!!" and then a yellow-colored ID:COM box to tell you of a successful plugging; should the connection not be fully realized, you have to install the USB Drivers again or use a USB port that is not the same as the one used up until now.
Choose, for a next move, these files and these buttons that open them:
– .tar.md5 for which you need to tap PDA;
– MODEM for which you have to click on Phone;
– CSC for which you should tap CSC;
– .pit for which you are asked to click on PIT.
A bunch of various boxes are going to be displayed. The second you see them, check them at once. If you also see Re-partition on the same list of boxes, only check it should you have opted for the .pit file and then click START. This will kick-start the flashing of the update firmware on your I9300.
The end of the installation should make the handset do this: restart, come up with a green "Pass" message and with its own home screen.
Disconnect, at this point, the smartphone from your personal comp. The XXEMG4 Android 4.1.2 Jelly Bean firmware is on your device's "Android & Baseband Version" from About Device.
The Samsung KIES method
The steps to update your I9300 with Samsung KIES are displayed below.
Download, first, and then plug the handset to it (the is here, too).
Launch the program on the notebook and, once the two devices have been connected, wait till you spot "New Firmware Update is available".
Then continue by pressing on the button for Firmware Upgrade. A box with terms and conditions shall soon appear, so agree with them. Then press "Start Upgrade" and initiate the process after the download is over.
After that, your I9300 will run the update. Then it will reboot. The firmware is inside the same location as when we used the first method.
[sc name="banner-jos"]
The OTA method
The OTA method will be used next.
So start it off by going to your phone's App Drawer.
There, opt for Settings and choose About device; then opt for Software Update and then for Update.
This message should appear: "An update is available".
Download it by pressing "OK". After the installation reaches its end, the Galaxy S3 GT-I9300 will reboot.
And that was all for these 3 methods.