Root the Galaxy Note and flash ClockworkMod Recovery
There is no shortage of ways to root a tablet or a smartphone these days. Many developers on various forums, the most popular being the XDA Developers one, have helped a lot with their solutions. The majority of these solutions are very helpful and offer you a brand new phone/tablet. And then there are some which help your device retain its initial warranty. Of such a tool we will talk today and it was made for the Samsung Galaxy Note.
This root solution is going to stop the work of the Flash Counter. The latter is responsible for erasing a gadget's warranty if it gets wind of the user flashing their device.
Requirements
The guide we are discussing here is made of certain steps. Before you start following them, we will list the prerequisites you must follow through. Your Galaxy Note needs to have a certain kernel to root it.
You can check this in the following manner: launch Settings, then choose About Phone and lastly click on an option known as Kernel version.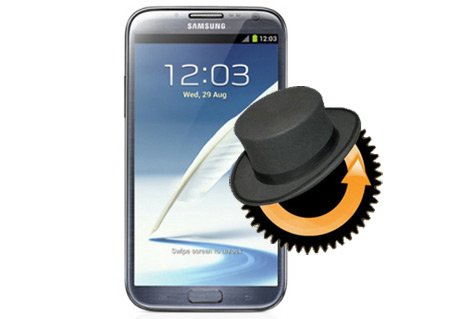 If you see something like 2.6.35.7-N7000XXKL1-CL641703, everything's fine and you can proceed with the rooting and flashing of the phone. Here are the kernels which are supported: KJ6 KJ7 KJ8, KL3, KJ1, KKA, KJ4, KK9, KL1, KK1 KK2 KK3 KK4 KK4.
Turn on the device's possibility to install files that are not included on the Google Play list using the phone's Settings then choosing Applications. Once here, select the field marked with Unknown sources. Then start the USB debugging and verify if the device has installed the Samsung Kies pack.
How to root Galaxy Note
Below you have all the necessary steps to root the Galaxy Note and flash the ClockworkMod Recovery.
Step 1: extract the archive file you downloaded.
Then, for the second step, move it in a dedicated directory on the laptop or PC you own.
Now, for step 3, look for a folder called CF-Root-SGN_XX_ODD_KL3-v5.0-CWM5. You also have to spot a sub-directory called InitialCFRootFlasher.
Step 4 goes in the following manner: connect the phone to your laptop and activate the not-rooted-yet.bat file, via double-click. This sits in the InitialCFRootFlasher directory.
How to flash ClockworkMod Recovery
If you wish to flash ClockworkMod Recovery, execute the already-rooted.bat file.
For step number 1 do what you are instructed to on the phone's display.
Step 2: you will see that the process is over then the smartphone must reboots 2 times. At the second restart, the phone will show you a simple message: ROOTED.
All you need to do now is perform the final step of our guide: get Root Checker. This will indicate whether or not your Galaxy Note has been rooted.