Update Galaxy Ace Duos S6802 to Android 2.3.6 XXLK2 Official Firmware
An update tailored for your Galaxy Ace Duos S6802 is just what the handset needs. XXLK2 will, once it's installed on your phone, deliver all the best of Android 2.3.6.
The Galaxy Ace Duos GT-S6802 came out in June 2012 and 6 months later it was released for Luxembourg, Poland, Romania (Cosmote), Spain, Switzerland and the Czech Republic. A version for the following countries was launched in December 2012: Germany and New Zealand.
The novelties
If the smartphone is rooted, the new Gingerbread official firmware will delete the device's system partition and revoke the root access. But you will get many features in return for this: superior stability while moving between home screen panels, mobile hotspot bug fixes and better security, Vcast apps, an updated Favorite Contacts widget and CMAS (short for Commercial Mobile Alert Service).
The update comes with better stability for data connectivity after you turn Airplane Mode off, a necessary update to VZ Navigator with all the latest 3D map enhancements and Visual Voice Mail updates, better battery life whenever you want to use Phone Book Access Profile Bluetooth headsets, enhanced data throughput performance in environments that register low 4G signals, the fact that you get to finally see how much time there is left till you're ready with the performing of an OTA update.
Your handset won't have its important data deleted after the update is done. Also, the internal and external SD cards won't end up damaged. The KIES logo for the Romania and Czech Republic versions isn't turned on (for all the other countries, the KIES logo is activated) so you can't upgrade the Galaxy Ace Duos S6802 using Samsung's KIES; but you can still use our guide. Or OTA. For these two methods, your device must run an official ROM.
Don't install this stock firmware on a different phone because it will be bricked in the end.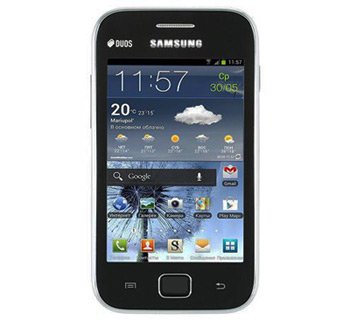 Requirements
As for requirements, here's what you should do:
download and save (on the notebook) USB drivers that work only with your phone;
make sure no security software is running on your notebook and smartphone during this tutorial;
charge the battery installed on your phone;
a regular backup and a full NANDroid one must be performed (the guide is here);
you should only use a laptop that runs Windows;
on your phone, turn USB Debugging on.
Instructions
First step you should perform needs this from you: download Odin from this page and the Android 2.3.6 Gingerbread XXLK2 (the file is available on this location) on the laptop you use. You must choose the appropriate file for your device using the "Region" column.
The same files will need to be extracted on the same device and, when the unzipping is complete, you can enter your phone in Download Mode. The method you should use is the following: simultaneously press and hold the keys called Volume Down, Home and Power, then stop as soon as a triangle in yellow pops up.
Once your Samsung S6802 is in the necessary Download Mode, you should do this: launch the Odin on the laptop as an Admin.
Once the Odin is opened, you should take the USB cord of the handset so that a connection between the smartphone and the notebook is established. When the latter does indeed happen, you will see "Added!!" on the display and an ID:COM box in yellow. If they are not popping up on the screen, you have to use another tactic, so either use another USB port or install the USB drivers on your laptop once again.
When you've completed these last few instructions, it's best to tap PDA, opt for a file with a CODE in its name, tap Phone, opt for a file with MODEM in the name, click on CSC, opt for a file with a CSC in the name, tap PIT and after that opt for a file that comes with .pit as its extension.
Then check a group of three boxes called thus: Auto Reboot, Re-partition and F. Reset Time. "Start" is the option you should tap when you're done. The XXLK2 stock firmware will soon appear on your smartphone, so wait for the flashing to be over.

The second your Galaxy Ace Duos S6802 restarts, you need to wait for "Pass" before you unplug the device from your laptop. And with that, the update is done and the new firmware can be tried out! To know where it is, we recommend opening Settings and after that tapping About Phone.
But what about this situation: you don't like the new ROM and you want the old one restored on your smartphone? The NANDroid backup will do that by revoking the update process.
You can leave comments in the section below. Use it also if you have questions.