How to Update Galaxy Ace GT-S5831i to Gingerbread 2.3.6 ZCNC1
To be able to land something new for your Galaxy Ace GT-S5831i, a good idea is to perform an upgrade. If you follow this tutorial, you will be rewarded with Android 2.3.6 Gingerbread. So give it a try!
The new ZCNC1 official firmware for China came out last month. This is the tool which is able to give you the Gingerbread 2.3.6. The OS we just mentioned will only be usable if you install this firmware on the Galaxy Ace S5831i. You will need another firmware if this is not your device. You can look on our main page for the one to fit your phone model.
The novelties
Moving on, let's see what this version is capable of. The operating system you'll soon enjoy brings, for one, better VZ Navigator with many 3D map improvements. Your smartphone's going to also get better Vcast apps and better 4G signal. The update means mobile hotspot bug fixes as well as better Favorite Contacts widget. Also available are the possibility to move between home screen and stability for data connectivity. Visual Voice Mail updates and Commercial Mobile Alert Service.
The Android 2.3.6 ZCNC1 for your phone contains a KIES logo. Should you want to experience an upgrade via KIES, you won't be able to: the KIES logo is not enabled. But if you wish to use OTA instead, you can. If the latter is your preferred method, your device will need stock ROM beforehand.
If there's root access on your Galaxy Ace GT-S5831i, the update firmware will wipe it away from your phone. But the device will not experience the same damage for its important data. The internal and external SD cards will be kept, too. But the handset's system partition will be erased.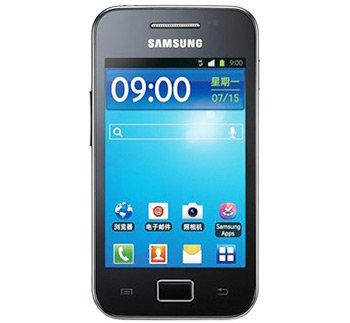 Prerequisites
You will now need to perform some requirements. They're telling you the following:
your phone's security programs have to be deactivated;
the security programs featured on the laptop have to go through the same thing;
a standard set of backups must be created, then a full NANDroid backup, using the instructions from this page;
download USB drivers compatible with your Samsung GT-S5831i on the notebook;
the laptop must feature Windows;
the battery of your handset must be fully charged.
Step by step instructions
Your smartphone's now ready to receive the new OS. That being said, keep the laptop open and download Odin v3.09 on it from this page. The Android 2.3.6 Gingerbread ZCNC1 official firmware for China is the other file which your laptop must have, so download it from here next. These are the packages that have to be unzipped now with WinRar.
When Odin v3.09.exe appears on the screen as one of the files belonging to the Odin v3.09, be sure to open it on your laptop.
All of the above should be followed by this task: enter the phone in Download Mode. For this to work effectively, you will need to press and hold Home, Power and Volume Down together, wait for a a boot screen to pop up and after that press Volume Up. Now that your handset's restarted in the Download Mode, you will be able to move on.
For that, make sure you establish, between your phone and laptop, a connection. The only available method for this plugging is the smartphone's USB cable, which must be used now. Your Galaxy Ace GT-S5831i has to be looked for by the Odin; when the latter has found your device, a blue sign will come up.
If the connection's achieved, add the firmware file to AP / PDA. Auto Reboot, Re-partition and F. Reset Time will appear. As soon as they're available on the screen, the first one of them will have to be checked; the second one needs to be unchecked while the third one must also be checked.
The actual step which begins the flashing of the ZCNC1 is up next. Its instruction is clear: tap "Start". The process isn't going to take long: about 15 minutes are required for it to end.
Once waiting enough, your phone will have a message to display and after that it'll restart. This is the message you need to wait for: "Pass". Its background is green.
Now's the time to have your two devices disconnected from one another. Which means this: ho to the USB cable and have it removed from them.

Tap Settings now, then About Phone. This is how you'll open the latest addition to your smartphone.
If, however, it doesn't feel great, the old ROM can be brought back with the NANDroid backup file. The use of this solutions means a revoked update procedure.
You can drop comments and questions below!