Update Galaxy Fame Lite S6790N to Android 4.1.2 XXAMI2 Firmware
Galaxy Fame Lite S6790N users living in Germany, France and Nordic countries should prepare for good news: XXAMI2 will help you get Android 4.1.2 if you install it on your smartphone.
The Galaxy Fame Lite GT-S6790N, a smartphone that came out this year, will be updated to the Android 4.1.2 if you follow our tutorial. The new stock firmware appeared in September and it works only for your device; if you use it on another phone, the latter will be bricked.
Out of the three countries this firmware works in, the KIES logo is only activated for the XXAMI2 aimed at the Nordic countries. Which means that you can upgrade your smartphone with Samsung's KIES software, too. For France and Germany you can't, so make sure you update your phone with either OTA or this guide.
There are two things you must be aware of if you upgrade your Fame Lite S6790N using our tutorial: your device's root access will be gone and the system partition will be erased. But you have to also know that the phone's data will be saved, as will its internal and external SD cards.
The features that belong to the new stock firmware are many. You will get to experience triple buffering, automatic adjustment for the size of widgets, pop up play, a fixed frame of 60 fps, sync and connect email updates, touch anticipation and free style widget, extended vsync timing, Google Now, a new keyboard, mini apps, group cast and all share.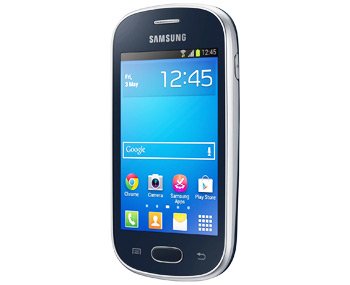 Requirements
To work well, an update must be performed on a phone that meets the following requirements:
USB Debugging must be enabled on the smartphone;
install USB drivers which are meant for your smartphone from here on your computer;
charge your handset's battery in case it's running low;
create a couple of backups to save the phone's data (a normal backup and a full NANDroid one, via this guide);
disable, on your device and then on your notebook, the devices' pre-installed security programs;
the PC or notebook you work with daily must run Windows.
Instructions
After all of the pre-requisites are met, you can get it on with the update and its steps.
The first thing that we require you to do is easy: just look for the Jelly Bean 4.1.2 XXAMI2 firmware and Odin 3.07 (available here), then download each of them on your laptop (the Germany version from this location, the France version from here and the Nordic countries version from this place).
If you are done with this, unzip the two packages on the same device, then boot the Galaxy Fame Lite GT-S6790N in Download Mode by following these step: simultaneously press and hold Home, Volume Down and Power, which will trigger the apparition of a warning screen, which means that you should now press Volume Up.
As soon as the previous mode has been booted into, time to launch the Odin as Admin on your notebook and then to do this: plug the smartphone to the laptop with the aid of the USB cord belonging to the handset.
Once you do that, the Odin will try and find your phone; when it locates it, the display will show "Added!!" and an ID:COM box that should be yellow. If the connection fails to be established, you advise you to try flashing the USB drivers again on the laptop; or try using another USB port.
When the plugging is actually successful, proceed to this step: click on PDA, opt for a file with CODE in the name, tap Phone, opt for a file with MODEM in the name, click on CSC, choose a file which has CSC in its name, tap PIT and choose a file with a .pit extension.
In a matter of seconds, you will see that a couple of boxes will show up on the screen; check only three of them, namely F. Reset Time, Re-partition and Auto Reboot. The new firmware can be flashed on your Samsung S6790N from now on, so make sure you tap "Start" and then wait for the end of the installation.

It won't take long. When it's over, you have to wait again, this time for the handset to restart and for a message saying "Pass" to appear. Once they're both on the display, you should unplug the phone from your laptop.
Do you like the new firmware? If yes, great; if not so much, use the NANDroid backup file which will revoke the update and get the old ROM back.
The comment section below is ready to receive your questions, so go for it!