How to Update Galaxy Tab 4 8.0 SM-T337T to KitKat 4.4.2 UVU1ANF4
You will soon have the time of your life with Galaxy Tab 4 8.0 SM-T337T. That's because you will have an official firmware on your tablet. And it will deliver what you've always looked forward to have on your gadget.
The Samsung SM-T337T will be paired up with this firmware: Android 4.4.2 KitKat UVU1ANF4. This tool is an official one and it came out this month for the USA (T-Mobile).
Now that we got this out of the way, it should be mentioned that the update comes with a price. Your tablet's system partition will be deleted if you root the device. Also, the root access will be revoked once you perform an upgrade. The tablet doesn't end up with other important parts damaged.
The benefits of this official firmware
The Galaxy Tab 4 8.0 SM-T337T is destined for many novelties. But you should only update this model with the Android 4.4.2 UVU1ANF4. If you install the latter on another model, you'll have it damaged.
If the official firmware is flashed on the appropriate gadget, you will use a fully improved device. What you'll actually enjoy is detailed here. We'll start with these: new apps and battery tweaks. An upgrade brings new features, too. The processor will move faster and you will get many tweaks to personalize the tablet.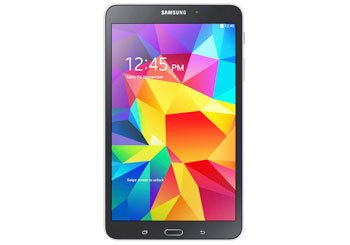 The firmware we've decided to use on your tablet doesn't have an activated KIES logo. Because of this, you can only bring an update via one of these methods: OTA or this guide. The OTA method only functions if your gadget has stock ROM.
Prerequisites
You have these pre-requisites to perform now:
use this page to download USB drivers for the tablet on your laptop;
open, on your laptop, its security programs;
have them turned off;
do the same for the tablet's security options;
keep the data on your tablet safe from damage by performing regular backups;
Windows should be your notebook's OS variant;
generate a full NANDroid backup (the complete tutorial on how to do it is here);
your tablet's USB Debugging should be enabled;
the Galaxy Tab S 8.0 SM-T337 has to contain a fully charged battery.
Step by step instructions
Step one is asking you to download the following on your laptop: Odin v3.09 and official firmware for T-Mobile.
Once the packages are settled on that device, you'd do better to extract each of them. The unzipping is something that will be helped by either WinRar or 7Zip.
When you see a file called Odin v3.09.exe, be sure you launch it on the laptop. Boot the SM-T337T in Download Mode next.
To enter the gadget in this particular mode, do this: press and hold, at the same time, a combination of three buttons. They are Home, Power and Volume Down. This action should stop when a boot message comes up. If you see it, be sure to press only this button: Volume Up.
Now use your tablet's USB cable. This will soon provide a connection between the gadget and your notebook. The connection will be a complete success only if Odin displays a blue sign.
The step that comes now needs you to add the firmware file to AP / PDA. Continue the tutorial by turning on some boxes called F. Reset Time and Auto Reboot.
Re-partition is a box that comes checked by default. You need to uncheck it and then install the new firmware. The option that must be enabled for this to happen is "Start".
You should now wait for 12 minutes; the installation will be done after you've waited for a bit. But if the flashing fails to finish or some other problem appears, you can redo the tasks from before.
The second you have a "Pass" message written in a green background on the screen, the new firmware will have been installed.
[sc name="banner-jos"]Now you will see the tablet reboot. That's what should happen to let you know that the guide is successful. Take out the USB cord from your devices to finish the guide.
The Galaxy Tab SM-T337T and your laptop are now disconnected. You can go to the gadget and tap Settings. After you tap About Tablet, you'll have free access to the update goodies.
Explore the latter for the time being. If they don't feel right, use the NANDroid backup file to get the old ROM restored. The upgrade will have to be revoked as a consequence.
For questions, be sure to check out our comment field below.