How to Update Galaxy Xcover 2 GT-S7710 to Android 4.1.2 XXAND3
If you're ever aiming for an updated Galaxy Xcover 2 GT-S7710, you'll have to follow a certain procedure. It contains the tool we'll be using and the steps to install it. So take a seat and enjoy the ride!
After your smartphone receives some official firmware, you'll experience many great possibilities. Android 4.1.2 Jelly Bean XXAND3 is the name of the tool we're using. It was released this June for Open Austria.
In case you want new features and other benefits for your device, you can either use our guide or Samsung's KIES. the latter can be used as an update method because the new firmware has an activated KIES logo. For this method to work, however, stock ROM must be on your handset.
Keep away from this guide if your phone is a different model. If you don't use the Galaxy Xcover 2 S7710 today, you'll have a damaged device on your hands.
The benefits
You should now find out some more about what you're up against. An update will deliver plenty of goodies to help you enjoy your handset more. These novelties are mostly made of new apps and battery life improvement. New features and customization tweaks are also part of the deal. A new keyboard will be present, too.
Your device will also sport extended Vsync timing and pop up play. An automatic adjustment for the size of widgets and group cast are also delivered. As are these: sync and connect email updates. The upgrade will feature Google Now and a fixed frame of 60 fps, too. You'll experiment touch anticipation and triple buffering, as well. Mini apps, all share and a free style widget are the last goodies on our list.
When it's time to update your phone, be on the lookout for some damage. Root access will be the first one affected. After it's revoked from your handset, you'll lose its system partition. The smartphone's internal and external SD cards will be saved, as will the phone's most important data.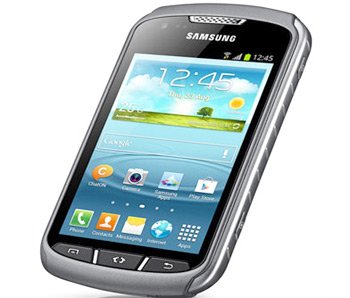 Prerequisites
If you want the update to go smoothly, you'll need to have a go at these pre-requisites:
Step by step instructions
This is where we deliver the steps to upgrade your phone.
Begin by having the following downloaded on your notebook: Odin v3.09 (available here) and the Android 4.1.2 Jelly Bean XXAND3 official firmware (file name: S7710XXAND3_S7710ATOAND1_ATO.zip) for Open Austria.
After you install each of them there, their content will have to be unzipped; which is where you can use one of the following methods: WinRar or WinZip.
When you're done with the unzipping, Odin v3.09.exe must be launched on the laptop. The next step asks you to start your phone in Download Mode.
This certain action must follow some steps, too. They're as follows: simultaneously press and hold Home, Power and Volume Down and do it until a boot message pops up, which means you should press Volume Up.
A connection will have to be performed between the phone and your notebook. This step has to be done with the handset's USB cord. If Odin begins to look for the phone and it finds it after a couple of minutes, your devices will have entered a connection as planned.
If not, try and repeat the steps. Add the firmware file to the AP / PDA next, then activate this box: F. Reset Time. Auto Reboot is the second box to be turned on, so do that. Then uncheck Re-partition.

The option to tap in order to begin the flashing of the Android 4.1.2 XXAND3 is this: "Start". By the end of 15 minutes, your Galaxy Xcover 2 GT-S7710 will display a message reading "Pass" in a green background.
After it reboots, you'll need to do this: disconnect the phone from the laptop. As soon as this last step is done, you'll be able to have fun with your upgraded smartphone. But for now, be sure to tap Settings along with About Phone.
In case you ever wish to see the previous ROM restored on the phone: use the NANDroid backup file. A disadvantage of using it: your device's upgrade will be revoked.
Do you have questions or comments for us? Refer to the comment section below.