Update Samsung Galaxy S 4G with Android 4.1 Jelly Bean CM10 ROM
What we are about to discuss in a short while has everything to do with Galaxy S 4G manufactured by Samsung. In other words: we will tell you which are the steps required for your phone's update with Google's Android 4.1 Jelly Bean. We are going to use a custom ROM baptized CM10 by its creator. However, this method does not guarantee you won't get bugs, since the ROM has yet to be stabilized. But the bugs aren't that serious, trust us.
Requirements
In preparation for this procedure we recommend that you take care of some pre-requisites. Here they are: as always, make sure to perform a full backup, then shut down the antivirus apps normally use and turn USB Debugging one. Next: use a laptop that boasts Windows and install ClockworkMod Recovery on the phone.
This should be followed by a full charge of the handset's battery. What we also recommend is to be aware that the warranty will no longer feature on your device; however, you can get it back by either allowing an upgrade with a Samsung-released software or by downgrading to the original ROM file. Last but not least: root the Galaxy S 4G SGH-T959V.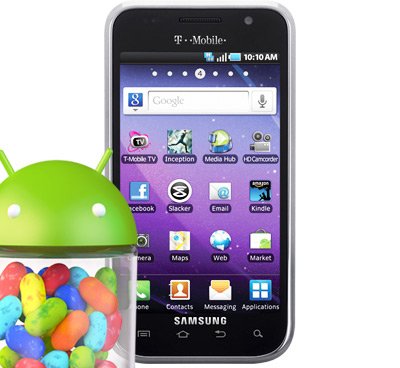 After all of the above requirements comes the procedure we brushed upon in our introductory passage. So let us see how we can help you update your Galaxy S 4G with Android 4.1 Jelly Bean.
Important instructions
Every tutorial starts with step 1. In our case, this recommends you to download and on your laptop.
The following step, number 2, will need you to move the both files into the phone's memory card using a compatible USB cable. Once that finishes, take the cable off.
[sc name="banner-jos"]Step 3: switch the smartphone off and restart the device and access the recovery mode by doing this: select and keep pressed for about 5 seconds the Volume Down, Volume Up and Power keys at the same time. Now direct yourself to the phone's menu; tap on Recovery and opt for Factory reset/Wipe data.
Now on to the fourth step: choose Wipe cache partition and install the CM10 update on your T959V by choosing the installation of the zip archive from the SD card and Choose zip from sd card.
For step number 5 you need to pick the update file and flash the same. Which should also happen in order to have the GApps pack installed. Once a few minutes pass, you will need to opt for +++go back+++.
Step 6: choose Reboot system now and wait until the phone restarts. After if does, your Samsung Galaxy S 4G will, from this moment on, sport the Jelly Bean OS.