XXMD1 Android 2.3.6 Gingerbread Official Firmware on Galaxy Ace Duos S6802
Galaxy Ace Duos S6802 should have no problem receiving an update to Android 2.3.6. Which is something that a tool called XXMD1 Official Firmware is perfectly capable of doing. The process is going to be explained in detail via this tutorial.
Requirements
The tool used in our guide has been released recently. To flash it on your smartphone, you should do two things: first follow some requirements and then some steps. Before we give you the latter, let's see what's up with those pre-requisites we mentioned: make backups for the content on your Galaxy Ace Duos GT-S6802, install USB drivers for this particular model on your day-to-day laptop, charge the device's battery, turn on USB Debugging and use the phone whose factory is unlocked. If your handset is not rooted (or flashed with a custom recovery image), don't worry: you can still follow this tutorial.
The stage has been set for the steps which will bring the Official Android 2.3.6 XXMD1 update for your smartphone. After the handset has been flashed with this tool, you will no longer have root access on it (if you've previously rooted it). Follow a guide on how to root this model if you wish to flash, again, custom ROMs, root-only apps and so on.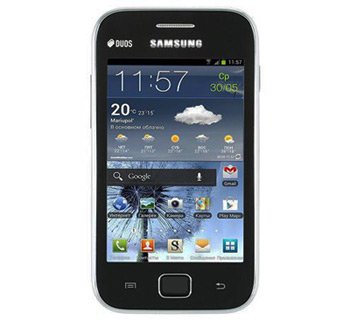 Instructions
Here are the promised steps for grabbing the upgrade. Make sure you first download the XXMD1 Gingerbread 2.3.6 (file name: S6802XXMD1_S6802NZCMD1_NZC.zip) for your Galaxy Ace Duos S6802 on your notebook, then download Odin tool on the same device.
Unzip the 2 packages and after that remember to turn the handset off before rebooting it into Download Mode.
The latter task should be performed by pressing and holding, together, Volume Down and Power; you will know you're in the Download Mode when you spot either Android's logo or the logo of the phone.
Return back to the PC and launch Odin on it, then plug the smartphone to the notebook; for this action, the tool to best use if the USB Cord of the Ace Duos S6802.
Now have patience till the PC tries to find the phone for you; when it succeeds, you will see a yellow ID:COM box and a COM port number next to it. If the plugging went badly, you need to flash the USB Drivers one more time; or simply use a different USB port.
After the devices are connected successfully, you need to choose a particular set of files. By doing as follows:
– find PDA and, after clicking on it, opt for a file which bears CODE in its name;
– after you make sure to click on Phone, you have to choose a file with MODEM in the name;
– click on CSC and opt for a file having CSC in its official name;
– now tap PIT, then choose a file sporting this extension: .pit.

Should none of the files above appear on the screen, then stay in Odin and afterwards select Auto Reboot, F. Reset Time and Re-partition (this last box needs to be chosen only if you saw and opted for the file with the .pit extension).
After being done with the step before, you have to click on START, which will make sure the flashing of the update firmware will begin. Wait for this to be over.
The Galaxy Ace Duos S6802 shall soon come back to life, which means that its home screen will soon appear, too. So, when you see it, disconnect the handset from your PC and then go to "About Phone" (which is in "Settings") and find the XXMD1 Android 2.3.6 Gingerbread official firmware there.