Update Galaxy Tab S 8.4 SM-T705Y to KitKat 4.4.2 DOU1ANF7
When you're aiming for an updated Galaxy Tab S 8.4 WiFi SM-T705Y, the first thing to do is locate the best upgrade method. In your case, it's this one: Android 4.4.2 DOU1ANF7. Join us as we let you know how this firmware works. And how to make sure it's flashed on your tablet.
The Galaxy Tab S 8.4 WiFi SM-T705Y will be surprised with a great batch of novelties. Their immediate role is to improve the device from various points of view.
Launched this month, the KitKat 4.4.2 DOU1ANF7 official firmware is meant for Australian users. You won't be able to install it if you use another tablet model than the one we refer to in this post. If you have a different gadget and you flash this firmware on it, you'll lose many important stuff that's on it; in the end, your device will receive plenty of damage.
The upgrade we'll perform via this official firmware promises many goodies. They are the kind of things which will deliver many ways to make the tablet superior performance-wise; and not only that. For starters, your gadget will have new apps. These are joined by a better CPU and new features.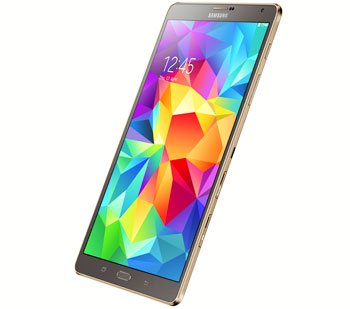 The benefits of this official firmware
If your tablet's battery been behaving badly, the update will help improve its life. It will also let you customize the device. The upgrade won't make you experience annoying bloatware. It will also protect the tablet from various security bugs.
You should have access to all of these by the end of this guide. Before you learn how to install the new firmware, there are some cons you need to know about. They have to do with the tablet's system partition. In case you own a rooted Samsung SM-T705Y, this element will be erased. Root access will be revoked, too. The update will spare the gadget's data as well as the internal / external SD cards on-board.
The official firmware we used doesn't have an activated KIES logo. When this logo is deactivated, you can't perform the update with the KIES software.
Prerequisites
You can, however, use our method. Which requires you to do this first:
install, on your laptop, USB drivers for your tablet by going to this location;
remember to turn off the security programs on your Galaxy Tab S 8.4 WiFi SM-T705Y;
also, don't forget to disable the security programs on your laptop;
Windows should be the only OS version running on the notebook;
occupy yourself with the creation of a full NANDroid backup next;
the tablet's USB Debugging must be turned on;
the tablet's battery must be fully charged.
Step by step instructions
Odin 3.09 (available here) and the are the two files that must end up on your laptop. Download them there, then extract them. Use WinRar or WinZip here, then launch Odin v3.09.exe on the laptop.
The tablet must then be helped to end up here: Download Mode. You will have to boot it in that mode by way of some instructions. They start with this one: press and hold, simultaneously, Home, Power and Volume Down. Press only Volume Up after a boot message has appeared.
Now that the tablet is in the necessary mode, plug it to your notebook. Take the gadget's USB cable to establish the connection.
After a very short while, the Odin should begin looking out for the tablet. As soon as its sees it, the Odin will offer a sign in blue. This means that you can move on.
This is how to do that: just add the firmware file to AP / PDA. Wait for the transfer to end. After it does, tap F. Reset Time. Tap Auto Reboot afterwards and uncheck this box: Re-partition.
You will then be able to tap "Start" and witness the new firmware's installation on your tablet. This is a process which takes less than 15 minutes. If it's not over by then, you need to repeat the steps.
When the quarter of an hour is up, the device will have a "Pass" message in green. Then it will restart. Time for this action: unplug the devices from one another.
[sc name="banner-jos"]If you have no idea how to disconnect them, just go to the USB cable; then take it out. Done! Now simply tap Settings and About Tablet.
You are now invited to enjoy the updated status of your Galaxy Tab S 8.4 SM-T705Y. You don't like what the procedure has just brought to it?
If you miss the tablet's old ROM, restore it. Do it by using the NANDroid backup file. If the previous ROM is retrieved, the update will be revoked.
Use the comment box below our post if you have problems with this upgrade!