How to Root Samsung Galaxy Tab Pro 8.4 SM-T320
In case you are eager to have a rooted Galaxy Tab Pro 8.4 SM-T320, you should consider our guide. It has all the pros of going through this process. It also contains the steps that are necessary to have root access. So waste no more time and root your tablet!
If you're new to the whole rooting business, there's nothing to worry about. We have a tool which provides new stuff for your tablet in a very easy manner. The name of this tool is SRSRoot. Once you install it, the goodies will appear at once.
One of them is the fact that you can enjoy your gadget's OS even after the rooting is all over. This software is a dedicated app which works with every one of the already launched Android versions. It also works with many Build IDs, including this one: KOT49H.T320XXU1ANAI. The latter is the Build ID we used for your device's rooting.
The tablet, released this year, features this CPU: quad-core 2.3 GHz Krait 400. The speed it delivers will receive an improvement from the rooting. You won't have to worry about the battery life; you will enjoy your tablet more thanks to the battery tweaks this SRSRoot comes with.
The benefits of this procedure
A rooting delivers many options that will help you customize your gadget. Apart from that, you will have new features. A series of root-only apps and custom ROMs will also be delivered. As will the following: admin and superuser permission. This tool extends its compatibility to many different brands.
The new app you'll install on your tablet comes powered by an SRS Server. Besides all of this, the software is free and it doesn't contain security issues. It also doesn't install unwanted programs, files and so on on your tablet.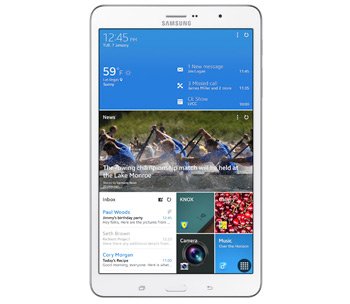 To root your gadget with the SRSRoot, you will give up its warranty. If you're planning an upgrade and there's root access on your tablet, the upgrade will revoke that. It will delete the system partition, too. It will not affect the most important data or the internal / external SD cards.
Prerequisites
It should also be said that you can only get root access if your Galaxy Tab Pro 8.4 SM-T320 is prepared for it. These preparations consist of some instructions. These are telling you to:
perform a backup (or more) so that no important content is deleted from your tablet during or after the rooting;
your notebook should have USB drivers on it;
go to this location and download them;
a full NANDroid backup has to be created, too;
the gadget needs to be running with a fully charged battery;
your laptop has to run Windows;
open the laptop's security programs and make sure all of them are disabled;
open the tablet's security programs and then turn them off.
Step by step instructions
Here come the steps needed for the rooting.
The first action you must perform asks this of you: download the SRSRoot app on your laptop. To do this, you need to open this page; then you have to click on a download button this location contains.
After that, install the new app and open it. Both of these actions must happen on the same laptop.
You can move on by doing this: come across Unknown Sources and click on it. To better locate this option, you should first tap Settings and then look right under it.
After you tap that, make sure to turn on USB Debugging if you haven't done it so far.
[sc name="banner-jos"]If you have, establish a connection between the tablet and laptop with its USB cord. The plugging will then require a few minutes to be achieved.
After the connection's done, begin the rooting of your Galaxy Tab Pro 8.4 SM-T320.
If you're unfamiliar with how this works, simply tap the following: Root Device (All Methods). Reboot the tablet after a couple of minutes are up.
Once the device has restarted, the goodies associated with root access will reveal themselves. Rejoice in them for a bit first, then see if you truly enjoy them or not. If you wish to unroot the Samsung SM-T320, you'll have to use the same software used for this procedure.
If you run into trouble while rooting the tablet, you can drop questions in our comment box. It's just underneath today's guide.