How to Install Android 4.2.2 DDUBND4 on Galaxy S4 Mini Duos GT-I9192
Galaxy S4 Mini Duos GT-I9192 will have to get help from a certain kind of firmware if you want it updated. This procedure relies on it, so make sure you tune in and find out more about it!
For many gadget lovers, an upgrade to a newly released Android version is a dream come true. Just like it is for the Galaxy S4 Mini Duos I9192. The firmware which came out for it this month is Android 4.2.2 DDUBND4. Users of the smartphone we mentioned are expected to enjoy many novelties. So, if your country of origin is India and you use the Samsung GT-I9192, the new firmware will change your device for the better.
For everything to go well, be sure to use the smartphone model we previously presented. Also, make sure the phone uses Black Edition. And, if you want to use OTA on it, the device must feature stock ROM. Samsung's KIES software isn't an option here.
As with other Jelly Bean versions, the one your phone gets to use contains loads of goodies. The most complex one: an option to long-press the WiFi Bluetooth icons in Quick Settings in order to be able to toggle the on/off state. On another note, your smartphone is going to enjoy a new Gallery app coupled with better Bluetooth audio streaming. A USB debug white-list and a new set of download notifications are delivered, too. Completing this list are a new set of sounds for wireless charging and low battery bug fixes.
Having a rooted phone perform an update invariably means some damage. The following will be erased/revoked: the system partition and root access. Here's what won't be affected: internal / external SD cards and majorly important data.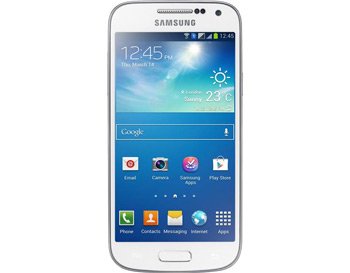 Prerequisites
In case you don't mind any of the above and want to start the upgrade, have a go at these pre-requisites:
activate USB Debugging on the Galaxy S4 Mini Duos GT-I9192;
deactivate, next, the phone's security programs;
deactivate those security programs installed on the laptop;
this device must only run Windows as main operating system;
download USB drivers compatible with this handset on your laptop;
make backups for the smartphone's data;
make sure you also generate a full NANDroid backup;
charge the phone's battery should this be needed.
Step by step instructions
For the time being, your laptop needs Odin and the . Once they're downloaded on it, unzip both of them with one of these tools: WinZipr or 7Zip. As a result of the unzipping, several files with different names will be shown.
Your job is to open the one called Odin v3.09.exe on the laptop. Now boot the smartphone in Download Mode with the help of certain steps. They're as follows: simultaneously press and hold Home, Power and Volume Down, then press only Volume Up once a boot message comes up.
You now have to establish a connection between the notebook and your Galaxy S4 Mini Duos GT-I9192. This is easily performed with the phone's USB cable. Odin is going to very soon display this on the screen: a sign that's colored blue.
You will then know that the devices have achieved the anticipated plugging. After that happens, move the the firmware file to AP / PDA.
Once the transfer's done, check both of these boxes: F. Reset Time and Auto Reboot. Re-partition, however, has to be unchecked. This done, make sure the following is tapped: "Start".
This has the power to put the firmware's flashing into motion. At the end of this procedure, the phone's display will contain a "Pass" message. The same device will soon afterwards start once more on its own, telling you that the connection between it and your laptop needs to be taken care of.
[sc name="banner-jos"]Unplug the two by taking the USB cable out. If the connection is no more, do this: tap Settings and also About Phone. By performing these actions, your phone will experience the Android 4.2.2 DDUBND4 in all of its glory.
However great this OS sounds, it's very possible that you find it uninteresting in the end. The NANDroid backup file was created for such a situation. By using it, the phone's old ROM ill be brought back. A disadvantage of this procedure is that the upgrade will be revoked.
For questions and the like, use the comment section below our tutorial!