How to update Galaxy Tab 3 7.0 SM-T210 to Android 4.1.2 XXAMI9 stock Firmware
If you're in it for a tutorial describing the steps which will help upgrade your Galaxy Tab 3 7.0 SM-T210 to Android 4.1.2, we have just what you need. And it goes by the name of XXAMI9 official firmware.
Do you live in the UK, Switzerland, Spain, Romania, Austria, Nordic countries, Netherlands, Luxembourg, Hungary, Germany, Czech Republic, Russia or Italy? The countries list is even longer. The firmware which will update your tablet was precisely meant for you and your gadget, which was launched this past July. The firmware, on the other hand, came out this month for Italy and in November for the rest of the countries.
Apart from updating your tablet with our guide, you can do the same by using KIES if the KIES logo of the firmware is activated in your case. And it is for the Nordic countries. For the rest of the regions, you will have to use our tutorial or OTA (by using the Software Update button located under Settings menu).
If your tablet is rooted, the XXAMI9 official firmware will delete your gadget's system partition and there won't be a root access. But in case you were wondering: the internal and external SD cards will not end up damaged. Apart from that, your tablet's important data will remain on your device safe and sound. Be sure to have a custom ROM installed on your Galaxy Tab 3 7.0 T210 and use only this tablet version. If a different one is updated with this tutorial, you will get it bricked.
Here are, for your information, the features that will end up on your tablet soon after you upgrade it to the Android 4.1.2: pop up play, a fixed frame of 60 fps, sync and connect email updates, triple buffering, mini apps, a new keyboard, touch anticipation and free style widget, extended vsync timing, Google Now, automatic adjustment for the size of widgets, group cast as well as all share.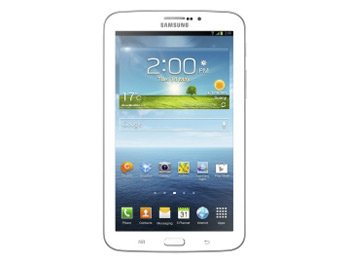 Requirements
The requirements which must be completed before the beginning of the update are displayed below:
turn on USB Debugging on your gadget;
keep the tablet's USB cord near you;
install those USB drivers which are compatible with the tablet on your PC or laptop;
charge the battery of the tablet if that's required;
create a standard backup and a full NANDroid backup afterwards (you can find the complete instructions on this page);
disable, on the tablet and then your notebook, the security programs which ship with them;
Windows must be running on your laptop or personal comp.
Step by step instructions
You will spot, below, the step-by-step guidelines to update your device.
Here is the first one: open your laptop and download (you must select your country from the "Region" column), then Odin file from this location on it.
After each of these packages is running on your laptop, you have to extract their content, then boot the tablet in Download Mode as shown here: press and hold Volume Down, Home and Power simultaneously, then press only Volume Up after the logo of Android appears on the screen.
The Odin on your notebook will have to be launched as Admin, so do that and then be sure to do this: with the help of the tablet's USB cable, connect the two devices to one another.
If a yellow ID:COM box and an "Added!!" message appear, the plugging will have gone well. But if it doesn't, you should use another USB port or try flashing the USB drivers for your Samsung T210 once again.
We advise you to do this next: tap PDA, choose a file with CODE in the name, tap Phone, opt for a file with MODEM in the name, click on CSC, choose a file which has CSC in its name, tap PIT and choose a file with a .pit extension.
After that, you should, before tapping "Start" to begin the flashing of the new firmware, select these boxes: Re-partition, Auto Reboot and F. Reset Time. Now have patience while the XXAMI9 firmware is being flashed on the tablet.
[sc name="banner-jos"]When the Galaxy Tab 3 7.0 SM-T210 restarts and welcomes you with a "Pass" message, you will need to unplug the tablet from the PC or notebook. The stock firmware you just installed on your gadget is in About Tablet; to gain access to it, you need to select Settings and then the option we indicated.
If you want your tablet returned to its former ROM, use the NANDroid backup file to restore it by revoking the update process.
The comment field below this guide is there for you to leave questions about the procedure or comments.