Update Galaxy S3 SGH-T999V to Android 4.3 VLUEML2 stock Firmware
Here is all you ever wanted to know on the topic of updating Galaxy S3 SHG-T999V to Android 4.3 but didn't find a suitable guide.
If you bought your Galaxy S3 T999V last year and wished you had the Jelly Bean 4.3 on it after this OS was first released, our tutorial is going to teach you how to perform this particular procedure. What you'll need is this new official firmware: VLUEML2. Its release date is January 2014 and it works best for Canadian users of this phone (be sure to have Video Tron as your device's carrier).
Apart from coming out this month, the new update has an activated KIES logo. So, you get to update your device with KIES method if you want to. But to do that, your smartphone must be running a stock ROM. Don't upgrade another phone with today's tutorial; you will brick it.
Despite bringing many goodies on your handset, the new firmware will, if the latter is rooted, do the following: erase the system partition and revoke root access. You shouldn't worry about the internal/external SD cards or important data: they won't be affected by the update.
Those new things that will land on your phone after it's upgraded are these: numerous much improved battery life, a list including new apps, an improved performance and also new features, no more bugs and tweaks to personalize your device.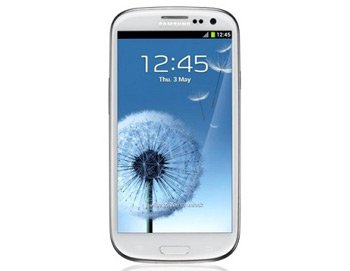 Requirements
The easiest way to upgrade your device will come up next. But now, we have some requirements for you:
Step by step instructions
What comes after this set of pre-requisites is the actual list of steps necessary for the update.
You should start by downloading Odin from this page and the Android 4.3 VLUEML2 stock firmware (the Canada Video Tron version can be downloaded ) and then making sure that the two are unzipped (with either WinZip or WinRar).
You will now need to do this: enter the T999V in Download Mode by pressing and holding Volume Down, Home and Power simultaneously, wait for the phone to come back to life and, after it does, be sure to press Volume Up only.
After this is done, you have to launch the Odin on the laptop as Admin and plug, with the help of the phone's USB cord, the Galaxy S3 SGH-T999V to the notebook.
When the two devices are connected, you will see that the display shows up with an "Added!!" message and also with an ID:COM box in yellow. But if there is no connection established between the two, you need to flash the USB drivers again on your laptop or use another USB port.
We recommend you to do this for the next step: tap BL, select a file with BL in the name, click on AP, opt for a file with AP in the name, tap CP, opt for a file with CP in its name, tap CSC, choose a file which has CSC in the name, tap PIT and choose a file with an extension called .pit.
Then, as soon as this task is finally performed, you can activate these boxes: Re-partition, F. Reset Time and Auto Reboot.
The new firmware is going to make its way on your handset if you begin by tapping "Start" and then having patience throughout the process.
[sc name="banner-jos"]Your handset will, once the flashing ends, restart on its own and display "Pass". This tells you that you should disconnect the Galaxy S3 SGH-T999V from the laptop. The new official firmware is now inside your device; go find it by tapping Settings and then About Phone.
But what if the VLUEML2 leaves you cold and you want to restore the phone's old ROM? There's a simple way to do that: use the NANDroid backup file you created before. Once you use it, the update will be revoked and the previous ROM will come back to your handset.
Is there something you want to ask us? The comment field below is open to both questions and comments.