How to Root Galaxy S3 I9300 running Android 4.3 XXUGMK7 Firmware
This post contains all the info on how to root Galaxy S3 I9300 , more exactly the model which has Android 4.3 XXUGMK7 pre-installed.
The pros of getting your phone rooted are many. For starters, a rooted handset means that you can customize it with plenty of great tweaks. Also, if you want to install root-only apps, you can. A rooted Galaxy S3 also means the possibility to improve battery via special apps and other tools, as well as install custom ROMs, underclock the GPU and process, overclock them, gain access to system files and so on. All in all, the performance of your smartphone is going to get loads better if the latter is rooted.
In order to get a hang of these advantages, you need to keep the following in mind: root your phone only if it's the right model running the new Jelly Bean 4.3 XXUGMK7. Otherwise you run the risk of bricking your handset if the model is a different one featuring another firmware.
The bad thing about having a rooted phone is the following: the warranty shall become void. To get it back, you will have to unroot the phone.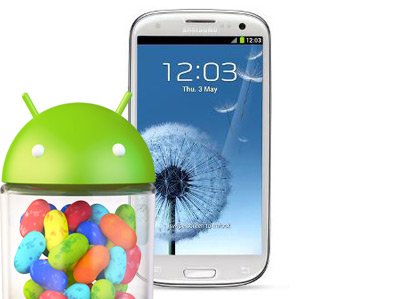 Requirements
To get you better acquainted with the pros of a rooted Galaxy S3 I9300, you need to consider this group of requirements:
Backup your device data via this guide;
Make sure your device have at least 65% battery power;
You already have USB Driver installed for Galaxy S3 GT-I9300 from this page in your PC;
Make sure USB Debugging is enabled otherwise you won't able to transfer file between PC and the phone.
Step by step instructions
Then download the following on your PC or notebook: (file name: CF-Auto-Root-m0-m0xx-gti9300.zip) and Odin v3.09.exe from this page. If the download is finished and both packages are also saved on the same device, you should proceed by applying the first step of our guide.
According to it, you have to unzip the two files until you are left with Odin3 v3.09.exe, .tar.md5 and other files. But the two we just mentioned are the most important ones, so keep an eye out for them.
If you don't know how to extract a package, you can use tools such as WinRar or WinZip, they're the best options out there.
Once the extraction has been performed, move on to this step: after turning the Galaxy S3 I9300 off, you should enter the latter in Download Mode.
To boot it into that particular mode, you should perform these instructions: press and hold, together, Volume Down, Home and Power; when you see a screen of warning, you have to press only Volume Up.
The Odin3 v3.09.exe will need to run as Admin next. After it does, you should do this: take the phone's USB cord and use it to establish a connection between the handset and the notebook or comp you use.
If a yellow ID:COM box and an "Added!!" message both appear afterwards, the connection has just been established. If not, you have to opt for one of these solutions: use a USB port that's not the same as the one you just used or re-install those USB drivers a second time on your PC (or laptop).
Once everything is in order with the previous step, you can move on by tapping AP.
After that, make sure you choose the CF-Auto-Root-m0-m0xx-gti9300.tar.md5 file. When you are done, we recommend you to do this: stay in the Odin window and, from there, activate the boxes called F. Reset Time and Auto Reboot (the Re-partition box shouldn't be checked).
You will afterwards need to begin the flashing of the rooting firmware by tapping "Start". The installation is going to take a couple of minutes to finish, so be sure to wait until it's done. And it will be once you notice the phone rebooting and displaying "Pass" in all-green.
Once the above happens, you should end the guide by removing the USB port and making sure the devices are no longer attached to one another.
[sc name="banner-jos"]When they aren't, the smartphone will feature the rooting tool, which means that you can explore all of its novelties.
In case there are problems during the rooting, you need to upgrade your phone's SuperSU app binary by connecting the handset to the Internet, launching the SuperSU and disabling this: KNOX notification.
Should you wish to make sure the Galaxy S3 I9300 is rooted indeed, you should try out this app from Google Play: Root Checker.
For questions about how to root your device running Jelly Bean 4.3 XXUGMK7 official firmware, use the comment section below.