How to Update Galaxy Tab 3 10.1 GT-P5210 to Android 4.2.2 XXUAMK7
To let your Galaxy Tab 3 10.1 GT-P5210 surprise you with never-before-seen features, tweaks and so on, a developer launched XXUAMK7 last month. This tool came out in January for Argentina, Panama, France, Chile, Mexico and Trinidad Tobago and it has only one purpose: to bring Android 4.2.2 on your tablet.
First things first, let's see what you are offered in terms of novelties: a new set of download notifications, no security issues for Bluetooth audio streaming and a much better Gallery app. A USB debug white-list, bug fixes for low battery and the possibility to long-press the WiFi and Bluetooth icons in Quick Settings to be able to quickly toggle the on/off state are also offered. The last feature: a new set of sounds for wireless charging.
This official firmware was launched for the Galaxy Tab 3 10.1 P5210. A different model will get bricked if you apply our guide on it. Also, if the gadget is rooted, your device's system partition will be deleted and root access will be revoked. The tablet's important data as well as its internal and external SD cards will not be affected.
If you're a fan of the KIES software and wish to update your gadget with it, you can: the new firmware's KIES logo is turned on. For this method, however, make sure a stock ROM is running on the tablet.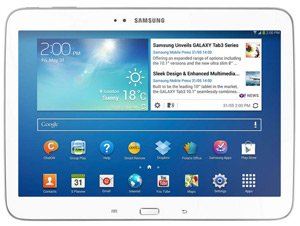 Requirements
If you're set to grab the upgrade, there's one more thing you should do. And that is the following: our requirements. Here they are:
Step by step instructions
After these pre-requisites, the guide will be the next thing to concentrate on.
So start it by unzipping the packages from above on your laptop with WinZip, WinRar or 7Zip. Then boot the tablet in Download Mode by pressing and holding Volume Down, Home and Power together, stop when a boot screen comes up and then press Volume Up.
Return to the notebook, look Odin up and open it as Administrator, then plug the tablet's USB cord to the laptop. A connection should be established next.
When it is, you will see "Added!!" and one yellow ID:COM box. If no such connection begins, you have to try once more by using one of these solutions: install the USB drivers on your notebook once more or use another USB port.
Should the plugging happen smoothly, then go on to the next step. Which tells you to tap BL, opt for a file with BL in the name, tap AP, choose a file with AP in the name, tap CP, select a file with CP in its name, tap CSC, opt for a file containing CSC in the name, click on PIT and choose, at the end, a file with an extension featuring .pit.
For the next couple of minutes you will have to activate some boxes labelled as such: Auto Reboot, Re-partition and F. Reset Time.
We will then want the following from you: begin the installation of the XXUAMK7. To do that without problems, you need to look for "Start" and click on it afterwards.
The installation is going to end once you notice that your Galaxy Tab 3 GT-P5210 reboots and its screen contains this message in green: "Pass".
[sc name="banner-jos"]If you don't encounter issues here, you can unplug the tablet from the laptop. The update is now successful! To see whether or not you prefer the new firmware over your previous ROM: tap Settings, choose About Tablet and play around with the XXUAMK7.
In case the firmware doesn't meet your requirements or fails to deliver, you can make use of the already created NANDroid backup file. It will quickly restore the old ROM, but the upgrade will be revoked.
If you want to ask us something about the update, the comment section below awaits you!