Install Android 4.1.2 Jelly Bean XXANF1 on Galaxy Star GT-S5280
Galaxy Star GT-S5280 is fated for big things. Especially when an update is involved. As soon as you've provided the most recent Android version for your device, you will have much to gain from it. See just how much below.
If you're wondering how to upgrade your device, Android 4.1.2 Jelly Bean XXANF1 is here to provide a way. This firmware, which is official, just came out. And it came out for Germany in particular. It has an activated KIES logo, too. Anyone with a Galaxy Star GT-S5280 that's running stock ROM can update it with Samsung's KIES software.
But if your phone doesn't come with a stock ROM, there's always our guide you can use for the procedure. Don't use the Android 4.1.2 XXANF1 if your phone isn't the model we advised you to use. If you still want to upgrade a different phone, you should look for the firmware that works with it.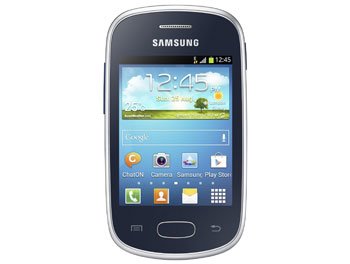 The benefits of this official firmware
Before you update your smartphone, find out what the new firmware can deliver for it. The novelties that will spring up on you begin with this one: a new keyboard. Your handset will also feature new apps. Battery life will be superior and you'll experience extended Vsync timing.
An upgrade means these, too: customization tweaks and pop up play. The phone will boast new features and also Google Now. Apart from that, a free style widget and group cast will also be available. The upate is also responsible for the presence of a fixed frame of 60 fps. Be ready for triple buffering and an automatic adjustment for the size of widgets. Having the new firmware on-board brings all share and mini apps. Last but not least are the following: touch anticipation and sync and connect email updates.
Can't wait for these novelties? You'd better wait till you know the upside to upgrading your device. If you have a phone sporting root access, the new procedure will revoke it. There is also the fact that your smartphone's system partition will be deleted from it. What won't be erased are the internal / external SD cards and crucial content.
Prerequisites
Start the guide by performing these requirements:
backups are always welcome, so create several to save the data on your Galaxy Star S5280;
then create a full NANDroid backup;
use with a fully charged handset for this tutorial;
turn off the security programs on your phone;
turn off the ones running on your notebook;
follow this guide by using a notebook which features Windows as its operating system;
download USB drivers for the phone on your laptop;
have your smartphone's USB Debugging option turned on.
Step by step instructions
Once our important pre-requisites are completed, start the upgrade.
For the first step we want you to download Odin v3.09 on the laptop you use. Then get the . After these packages are done with the download, extract them. The unzipping will require WinZip.
Having completed the extraction, move on by opening, on your laptop, this: Odin v3.09.exe. After the right file is launched on that device, reboot the phone in Download Mode.
You will have to enter the S5280 in that mode by pressing and holding Home, Power and Volume Down at the same time till you see a boot message pop up. Press Volume Up after it does.
Your smartphone and notebook must enter a connection. Help them do so by using the handset's USB cord. When you see Odin displaying a blue sign, the plugging will have been initiated.
So do this next: go to the firmware file. Now add it to the AP / PDA. When this is done, turn on two boxes. F. Reset Time and Auto Reboot are their names.
Look at a third box: Re-partition. This one is already checked; you have to uncheck it. After that, begin the flashing of the new firmware by clicking on "Start".
[sc name="banner-jos"]As soon as no more than 15 minutes have passed, the handset should reveal a message in green. This message will say "Pass". If said message appears, the phone will start to reboot.
Time has come to disconnect the devices from one another. Unplug them by removing the USB cord.
Move on to Settings, tap it, then click on About Phone. The smartphone will now unravel all of its newly added goodies.
Check them out first. If they're not that impressive, use this to revoke the upgrade: the NANDroid backup file. This is the action that shall restore the former ROM on your Samsung GT-S5280.
Problems with the procedure? Use the box below to leave comments and questions about it.