How to Flash KitKat 4.4.2 ZSU1ANB2 on Galaxy Tab Pro 8.4 SM-T320
If ever you wished to have Android 4.4.2 KitKat on your Galaxy Tab Pro 8.4 SM-T320, you are now able to do it. You simply need the right kind of firmware for your specific tablet model and you're set. We will teach you how to tackle your gadget's update today!
We recently came across ZSU1ANB2 for Hong Kong and Taiwan alike. This latest firmware is ideal if you own a Galaxy Tab Pro 8.4 SM-T320 and you want it to have the KitKat OS on it. If you've heard of this OS, you know that it enhances a device's performance, brings goodies and the like. For an in-depth list of novelties, stick around and we'll tell you about the presence of new features. And new apps, customization options and zero security issues.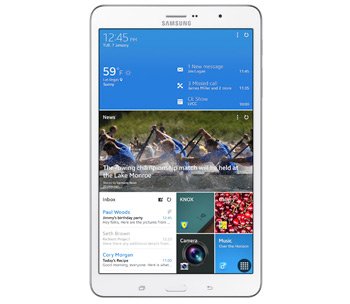 The novelties
If you want to grab the this official firmware via KIES, stick to our guide. Or OTA. The new firmware doesn't have an activated KIES logo. Also, for the OTA solution, your tablet must feature this particular element: stock ROM. We are fine with a tablet that doesn't sport this.
If used on a rooted Samsung T320, this firmware will do damage. First of all, the system partition of your tablet will be erased; second: root access will be no more. What will remain unaffected by the update: the internal and external SD cards. The important data won't be deleted.
You should use today's tutorial on the Galaxy Pro 8.4. Our guide will damage your device if it's not the one we just recommended for use.
Prerequisites
Requirements:
disable, on your Galaxy Tab Pro 8.4, the security solutions protecting it against various security threats;
the laptop's security software should also be deactivated;
the tablet's battery needs to be fully charged;
the notebook must function with Windows;
download USB drivers on your laptop;
create a full NANDroid backup, via these tips;
make a standard backup following these instructions;
USB is an option on your tablet and it must be activated for this tutorial.
Step by step instructions
If you want to get on with it, our first advice for you: download the and on your laptop. Then find Odin v3.09 and get it installed on the laptop, as well. You have to do the following now: find WinRar or 7Zip.
Use one of these on the two packages. Once they're unzipped on your notebook, look for Odin v3.09.exe; launch it.
We will now ask you to boot your tablet in Download Mode by way of certain actions. They look like this: press and hold, together, Home, Power and Volume Down, stop when a boot screen pops up, then make sure you press Volume Up.
When the tablet has entered that mode, it's safe to move on by plugging the tablet to the laptop. There is something that needs to be used for the previous step: your tablet's USB cable.
If done accordingly, a connection will be established as soon as the Odin has a blue sign to show on the screen. This means that you can continue with the following action: add the firmware file to AP / PDA.
Time for another step. This time around, you will be asked to tick some boxes: F. Reset Time and Auto Reboot. After you go to a third box called Re-partition and uncheck it, do this: tap "Start". This is how the new stock firmware will become one with your Galaxy Tab Pro 8.4 SM-T320.
The exact amount of time you'll have to wait for the flashing to end is about 15 minutes. But the tablet will announce you when the firmware's installed. You will be shown "Pass" in green and the tablet shall restart on its own. So be sure to do this when the installation's done: unplug the gadget from your notebook.
[sc name="banner-jos"]Now that the Android 4.4.2 KitKat ZSU1ANB2 has been added to your tablet, you can open it very easily. Here is our method: tap Settings and then tap About Tablet.
Then make sure you take advantage of the new features and so on. If you find you don't like them and the old ROM was superior, the NANDroid backup file will be sure to restore it. In doing so, the upgrade procedure shall be revoked from your tablet.
The comment field below our guide is prepared to receive your questions and comments!