Install Android 4.1.2 XXAML2 on Galaxy Fame Lite GT-S6790N
We are offering you the chance to discover your Galaxy Fame Lite GT-S6790N in a new light. This guide tells you the manner in which the phone can be updated to Android 4.1.2 if you live in the Baltic area.
The recently launched XXAML2 is the new firmware we wish to introduce to your smartphone. With its help, the Galaxy Fame Lite will encounter an automatic adjustment for the size of widgets, a fixed frame of 60 fps and the addition of a new keyboard. Touch anticipation, Google Now, free style widget, mini apps and triple buffering are some of the other novelties. The list also comes with Group cast, pop up play, extended Vsync timing, sync and connect email updates and all share.
The new firmware's KIES logo is not activated. As a result, only this tutorial or OTA can be performed on your handset. For the OTA, your device must come with a stock ROM. This method will work if you go to the the Software Update button under the tablet's Settings menu and use it.
The XXAML2 is compatible with the Galaxy Fame Lite GT-S6790N, not with a different model. If, however, you use it on that one, you will brick it. Also, a rooted handset will end up in a revoked root access and an erased system partition. But the update will not affect the internal / external SD cards or the phone's important data.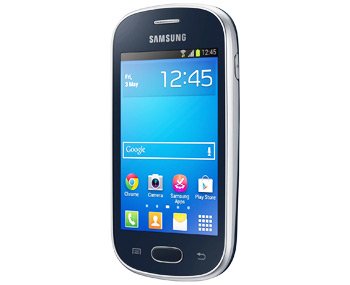 Requirements
To follow our guide, you should first:
Step by step instructions
Only after you're done with the requirements above can you begin the update. The first of our steps asks you to on your laptop, then do the same for Odin. Both these packages must then be unzipped with one of these: WinZip or 7Zip.
Enter the handset in Download Mode afterwards by first pressing and simultaneously holding these buttons: Home, Volume Down and Power; second: wait for a warning display and then press Volume Up.
Your device is now in the Download Mode, so open, on the notebook, the Odin as an Admin.
As soon as you see the Odin open, you can establish, with the phone's USB cord, a connection between the Galaxy Fame Lite GT-S6790N and your laptop. The way you'll know whether the plugging did happen is if you notice "Added!!" and an ID:COM box (its color must be either blue or yellow).
If you should have problems with this step, it's recommended to use another USB port, repeat the guide up until now or make sure you flash the USB drivers on your notebook again.
If you don't have issues with the plugging: tap BL next, select a file with BL in the name, click on AP, opt for a file with AP in the name, tap CP, opt for a file with CP in its name, tap CSC, choose a file which has CSC in the name, tap PIT and choose a file with an extension called .pit.
Then check the boxes which are called Auto Reboot, Re-partition and F. Reset Time. Now you need to move on by tapping "Start". The Jelly Bean 4.1.2 XXAML2 official firmware will, once you do that, install itself on your handset.
[sc name="banner-jos"]Once a couple of minutes are up, your Galaxy Fame Lite GT-S6790N will reboot. The handset and the laptop can be unplugged from each other after you see "Pass" on the screen in a green background.
The new firmware will have to be launched next. To open it: tap Settings and after that click on About Phone.
Once it's launched, you will be able to play with all the novelties we told you about in the beginning of this post. If they're not as appealing as you thought they would be, you are free to use the NANDroid backup file and restore the old ROM. But if you go for that, the upgrade will be revoked.
Is there something in particular you want to ask us? Use the section below.