How to Flash Android 4.3 XXUENA1 on Galaxy S4 GT-I9505
Galaxy S4 GT-I9505 has every reason to expect an update. Which will happen today since XXUENA1 official ROM has just been released for Germany (T-Mobile). This new firmware can upgrade your smartphone to Android 4.3 and we are about to introduce you to the steps which will do that.
We must warn you that if you don't update the Samsung I9505 and instead use another model, the latter will be affected.
A rooted handset will, once the new firmware is installed on it, deal with a couple of problems. Which are the following: the root access will be revoked, then the system partition will be deleted. Luckily, your device's important data and the internal (and external) SD card won't be affected by the upgrade.
The new stuff which will become part of your Galaxy S4 GT-I9505 includes new features and a great performance due to the many tweaks and options available. Other examples: enhanced battery life thanks to loads of numerous tweaks as well as new apps and plenty of customization options. The firmware won't come with damaging bugs.
If you wish to use Samsung's KIES for the procedure, go ahead: the XXUENA1 has its KIES logo turned on. To use this method successfully, your phone must feature the following: a stock ROM.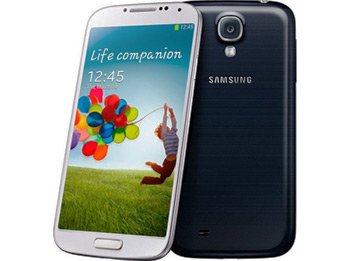 Requirements
To begin our guide, you must first go though this list of pre-requisites:
check the battery icon and, if needed, fully charge the smartphone;
turn on USB Debugging;
turn off the handset's security programs;
disable your laptop's security software as well;
create a standard and then a full NANDroid backup (the guide is here);
the notebook must feature USB drivers on it (download only the ones which work best with the Galaxy S4 GT-I9505);
if you want the update, use only a Windows-based laptop.
Step by step instructions
When all of the requirements have been performed, you can get to things by having a go at this first set of instructions: download, from here, Odin on your laptop, go here to find the to download on the same device and, with WinZip (or WinRar), extract them.
When the unzipping's over, you will be required to take a look at these tasks: enter your Galaxy S4 GT-I9505 into Download Mode and, once you're done with that, continue by opening, on your notebook, the Odin as an Administrator.
The Download Mode should be entered as detailed here: press and hold, at the same time, Volume Down, Power and Home, then, as soon as you come across an icon with Android on it and a triangle of warning, be sure to press Volume Up.
Our next set of guidelines begins with this one: plug the smartphone to the laptop. It will work faster if you use the USB cable which ships with your handset.
To make sure a connection is successfully established, you need to wait until you see a yellow ID:COM box and a message that says "Added!!". If no plugging is going on, you should make use of one of these methods instead: flash, on your notebook, those USB drivers again or use a USB port that's different to the one used previously.
Be sure to move on with this step: tap BL, select a file with BL in the name and then do the following: click on AP, opt for a file with AP in the name, tap CP, opt for a file with CP in its name, tap CSC, choose a file which has CSC in the name, tap PIT and choose a file with an extension called .pit.
We will now ask you to look for the following boxes that need to be checked: Auto Reboot, Re-partition and F. Reset Time. After you're done with this step, you need to tap "Start" and allow the firmware to be installed on the Galaxy S4 GT-I9505 next.
You will be able to move on after a couple of minutes have passed, which will allow the smartphone to restart automatically.
[sc name="banner-jos"]Unplug it from the laptop after you are shown, in green, a message that reads "Pass". Once you're done, go to Settings, click on About Phone and meet your new firmware.
In case the XXUENA1 doesn't exceed your expectations, you might want to try restoring the previous ROM. Which is where that NANDroid backup file comes in the picture to help.
Below is a comment section. Use it to leave questions!