How to Install Android 4.3 POUBND1 on Galaxy Note 3 Neo SM-N7505
It's great to have a Galaxy Note 3 Neo (also called Lite) SM-N7505 running the latest Android 4.3 JB. To get a taste of this OS, we recommend an update procedure as described below.
Launched this month for France (Bouygues), POUBND1 will deliver the advantages of this new OS on your Samsung SM-N7505. If this is your first time performing a procedure which will bring this operating system, you should know that it's not a difficult thing to do. Just follow our lead and be sure you own the Galaxy Note 3 Lite SM-N7505 instead of a totally different smartphone. If your model is another one, best find a guide that is compatible with it among our posts.
Considering the fact that this update file doesn't have a KIES logo turned on to allow you to use the KIES software, you are left with 2 update options. One is our guide and the other is OTA. The OTA should only be applied if your phone's running stock ROM.
The Android 4.3 is well-recognized for its important pros. Your handset will enjoy all of them, starting with new features and ending with performance boosters. You won't have to deal with poor battery life: the upgrade's going to deliver tweaks to help the unit last more. You will get a taste of new apps, too, as well as customization options.
When your phone's rooted beforehand, the Android 4.3 will delete its system partition and revoke the device's root access. The smartphone's important data will not be deleted. Neither will the handset's internal and external SD cards.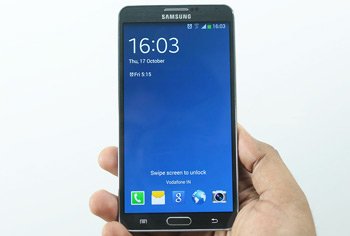 Prerequisites
To be able to fully upgrade your phone and install the POUBND1, these pre-requisites will prove useful:
find USB drivers for the smartphone to download on your laptop (you will discover them on this page);
make standard backups;
the battery inside the Galaxy Note 3 N7505 needs to be charged;
your notebook's choice of operating system must be Windows;
disable, on your laptop, the programs that offer protection against security problems;
create a full NANDroid backup;
turn off the programs which protect the smartphone from security threats, too;
enable USB Debugging on the smartphone.
Step by step instructions
Once the preparations for the update are done as instructed above, you should start our guide's steps.
The first of them will need this from you: to have the and Odin v3.09 downloaded on your laptop. When the notebook is complete with these packages, you will need to use 7Zip to extract both of them.
The file that must be launched on your laptop now is Odin v3.09.exe. The handset needs to enter Download Mode next, so press and hold Home, Power and Volume Down together and do so till a boot message comes up. Once you see that, press Volume Up and move on to the next step.
For this step, you have to perform a plugging between the phone and the notebook. The handset's USB cable will create a connection, so use it, then wait till the Odin comes with a blue sign.
You will be required to do as follows next: add the firmware file to AP / PDA. Two boxes have to be activated afterwards: F. Reset Time and Auto Reboot. Another box, this time the one called Re-partition, will have to be unchecked so that you can afterwards tap "Start".
The POUBND1 is going to end up on your Galaxy Note 3 Neo SM-N7505 after you do that, because it will enter an installation phase. Which phase will be over once "Pass" appears on-screen and the smartphone reboots.
[sc name="banner-jos"]To complete this guide, your handset will have to be disconnected from your laptop. After you do that as indicated, the new OS will have to be launched on the handset. You need to open it by tapping Settings first, then tapping About Phone. This will enable you to have a go at the new features, apps and so on.
If you don't find them as appealing as in the beginning of our guide, the NANDroid backup file will be of much use. How so? This file can restore the device to its former ROM. The update, though, will be revoked from the phone.
You can use the comment field below if you wish to ask questions regarding the upgrade.