Guide: Root Galaxy Note 10.1 N8000 on Jelly Bean 4.1.2 XXCMF1 Firmware
If you put your mind to it, you can also root your Galaxy Note 10.1 N8000. And we are providing some help for this plan of yours in the form of today's tutorial.
Rooting a device, no matter if it's a tablet or a smartphone, means a huge deal for your device. Because you are going to see just how much you can benefit from additions such as the possibility to easily flash root-only apps, custom ROMs and many great tools.
Requirements
But, to expose your Galaxy Note 10.1 GT-N8000 to this procedure, you should absolutely consider a couple of very useful requirements beforehand: use the model that has already been updated to Android 4.1.2 Jelly Bean build N8000XXCMF1 (we have a tutorial on that procedure), flash USB drivers for the device on the comp of your choice, charge the tablet's pre-installed battery, create backups via this guide and turn on USB Debugging. Your tablet needs to be the variant which is carrier and factory unlocked before you root it.
The above pre-requisites are, as we've mentioned, very useful. And you must follow them accordingly or else you will experience an unsuccessful rooting. One of the immediate cons of this procedure for your tablet: the handset will remain without its warranty.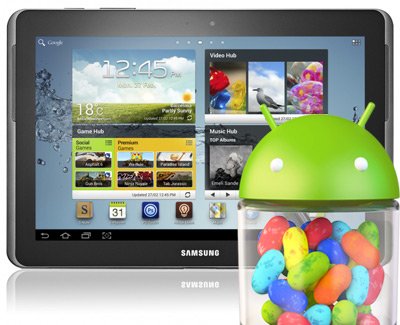 But there is a counter attack to this: you can get the default warranty back by unrooting the device. Since we will use a tool called CF-Auto-Root for this guide, we advise you to do this after you're done with the tutorial: use Triangle Away. This will reset the tablet's flash counter for you.
Instructions
So now here's what you should do to correctly root your Galaxy Note 10.1 N8000 on Jelly Bean 4.1.2 XXCMF1 official firmware. Start the guide by finding a place for and Odin tool on your laptop.
Then extract the files inside these packages and power the handset off after you are done with the unzipping task from earlier.
Here comes another task for you to follow once the device is no longer running: enter the tablet into Download Mode by simultaneously pressing and holding Volume Down and Power; when the handset is back on again, you have to press Volume Up and you will arrive in the necessary Download Mode.
So now it's time to launch, on your notebook, Odin and then plug the device to it with the former's USB cord.
The PC will then try and look for your Note 10.1 N8000, so have patience until you spot a yellow-painted ID:COM box plus a COM port number (and an "Added!!" message, too).
Stay in the Odin tool and tap PDA; this action is needed in order to opt for the CF-Auto-Root .tar.md5 archive.
Now choose these options: F. Reset Time and Auto Reboot; at the same time, leave Re-partition unchecked and move on with the rest of the tutorial.
[sc name="banner-jos"]Next: have the rooting firmware flashed on your tablet by tapping START while you are in Odin's menu. The Galaxy Note 10.1 N8000 will, after a very short while, restart. Disconnect the handset from your laptop after you notice PASS + a green background in Odin.
After the devices are not plugged to one another anymore, you can finally open your tablet and see, with your own eyes, what this rooting is all about. But before that, see if the handset is rooted or not with Root Checker, a special app which belongs to Google Play Store.