How to Root LG Optimus Zone VS410
LG Optimus Zone VS410 will get something new today. And that is root access. In case you're interested in that, we're sharing this guide with you. Make the most out of it!
It's time for a change when it comes to your handset. That's what you'll find in here. For starters, we'll deal with this rooting app: SRSRoot. Even if you've never heard of it or used this tool, no worries. The SRSRoot is extremely easy to handle. The app is free and there's no limit to the device brands it supports. The tool we're mentioning in this post has unrooting powers, too.
The smartphone you're using the app on is already 1 year old. Android 2.3.6 Gingerbread is the OS it uses. The rooting cannot harm this version; that's because the freeware works with every Android versions that is or has been available.
The advantages of this method
After your LG Optimus Zone gets in touch with the SRSRoot, its 800 MHz CPU will experience a faster performance. The app's powered by an SRS Server and it delivers many new features. A bunch of battery tweaks and root-only apps will also become available. Custom ROMs and customization options will join those. Even admin and superuser permission are available for your phone.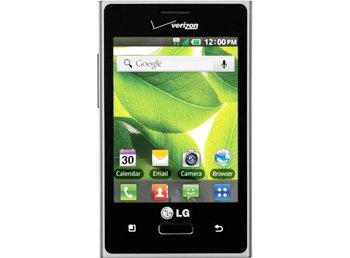 The handset needs a Build ID for the procedure. You have every right to select one that best suits you. We wanted to work with GRK39F. Viruses and bloatware won't trouble your phone.
There are some issues when a phone is rooted. The same happens when a rooted device is upgraded. As far as the first situation goes: your handset's warranty will be revoked. This is something that can be amended. A guide on how to restore the warranty is of much help. But when the smartphone deals with an update, there's much more to deal with in terms of problems. For one, the phone is parted from the root access. Then there's the loss of its system partition. The internal / external SD cards and important data are both spared.
Prerequisites
Pre-requisites are also part of a rooting tutorial. Here's a look at the lot of them:
don't begin the procedure until USB drivers are downloaded on your laptop (this is where to find them);
install them on the laptop and then tap USB Debugging on the smartphone;
Windows should be the laptop's operating system;
you should create a series of standard backups for the handset to avoid data damage;
a full NANDroid backup has to be generated when you're done with the regular ones;
your LG Optimus Zone VS410 must have its security software disabled before the rooting can start;
the same is needed when it comes to the laptop's security software;
the battery that ships with the handset must be fully charged.
Step by step instructions
Be very careful of the steps below. They are essential for the rooting process!
We want you to go to this site with the laptop. Launch the page, then click on a download button. This is the way you begin the SRSRoot's download. When the app is on the right device, install it there.
The freeware has to be launched on your laptop afterwards. Your phone's Menu and Settings should be tapped soon. After being done, tap this, too: Unknown Sources (it's under Settings).
If all's done here, then turn on this option: USB Debugging. If you remember, we urged you to enable it above. Drop this step if you've activated that option before.
Instead, move on to this action: plug the handset to your laptop. This is going to require the use of your handset's USB cord.
Once a couple of minutes are up, the connection between your devices will have happened. Continue by actually starting the phone's rooting. The upcoming procedure is sure to begin after you've tapped Root Device (All Methods).
Your LG Optimus Zone VS410 must wait 10 to 15 minutes. Should the process not end in 15 minutes' time, you'll have to redo the steps. But if you don't experience such a problem, you can do this instead: reboot your LG VS410.
[sc name="banner-jos"]We have the best method for doing that: enable Reboot System Now on the handset. You are now asked to have patience again. This time, though, you won't wait that long. The device will restart in a couple of minutes.
The rebooting once completed, your LG Optimus Zone will finally have root access. Celebrate by using the novelties. After one day or more, you will have to decide whether or not the rooting was needed. Should the handset be better off without root access, you have the SRSRoot to count on. The app is excellent if you want an unrooting tool.
Waiting under this post is a comment box.