How to Root Samsung Galaxy Pocket GT-S5300
Samsung Galaxy Pocket, the GT-S5300 to be precise, has been on our list of smartphones to root next for a while now. This model has been the handset of choice for everyone who's into devices that don't weigh a ton. However, one of its drawbacks is its operating system: Android Gingerbread.
The manufacturer didn't announce when or if it would receive a new OS version, so to make its users happy, we created a tutorial on how to root the Pocket GT-S5300. If you don't perform this procedure on your smartphone, you'll risk not participating in the fun that such an operation provides afterwards.
So, if you want to experience such a sweet promise, you should just follow our guide. It comes with some requirements and steps. Both of these are very important, so don't leave anything out of what we are about to tell you.
Requirements
And we shall start by mentioning those pre-requisites first: download Root Package on your laptop and charge it till it's 100% full. To not lose your mind afterwards, you should also create a backup of the most important data on your handset using this guide.
The phone's warranty, which will disappear after you root it, will come back like this: unroot the Pocket S5300 with a tutorial we put together on our site; don't use a guide that's been written by someone else.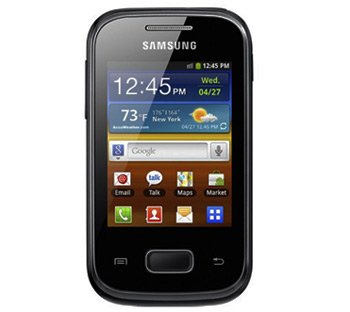 Your eyes should now be focusing tightly on the steps they will notice below.
Important instructions
Step one means the following actions: the files which you had to download before should be on your laptop's desktop. Don't extract anything anywhere, simply plug the device to your comp, then go to its desktop.
For step two you will be asked to perform the following: from the desktop, copy the Root Package and paste it to the SD card root; the transfer will only last a couple of seconds, after which you should unplug the Pocket GT-S5300 from the laptop.
The next step, the third one, will prompt you to switch the smartphone off.
For step four you should press and hold the keys for Home, Volume Up and Power at the same time, which will enter the device into Recovery mode. Now opt for the following: Apply update from SD card.
After making that selection, step five will land your way and ask you to install the Root Package archive by choosing it, then wait for the installation to start.

Once it's done, you need to turn to your phone and reboot it so that the rooting goes as planned.
If you failed to get your Galaxy Pocket GT-S5300 rooted or you encountered a problem during/after the procedure, the best thing to do would be to just repeat this whole tutorial. Only this time around make sure to check whether or not an app going by the name of Superuser is in your handset's App Drawer.
If it's there, there's nothing more to do than to check out all of the advantages that a rooted device has. Enjoy each and every one of them!