How to Update Galaxy Fame Duos GT-S6812B to Android 4.1.2 VJANC1
Get ready for Android 4.1.2 making an appearance on Galaxy Fame Duos GT-S6812B. Your smartphone is offered this OS by new firmware launched recently for Brazil. More on this in our post!
If you're using the Galaxy Fame Duos GT-S6812B in Brazil and you wish to enjoy the Android 4.1.2, a developer recently came up with new firmware. The new VJANC1 is its name and it should be flashed only on your phone model. A different model requires another tutorial which you'll find on our site.
If this is the first time you've tried an upgrade, this is how a rooted device will react to it. First, it will lose its root access. Then it will end up with a deleted system partition. The important files you keep on your device won't end up deleted. The internal and external SD cards on it will be saved, as well.
If the Android 4.1.2 JB is something you've never tried before, it's time to do so. That's due to the fact that this OS comes with really nice goodies. We'll now introduce you to all of them. We will start the list with these: a new keyboard, mini apps and triple buffering. Extended Vsync timing, group cast and automatic adjustment for the size of widgets are coming up next. Also, the following should be added: Google Now, pop up play and a fixed frame of 60 fps. More is on the way: touch anticipation, all share, sync and connect email updates and free style widget. This new firmware won't bring security problems with it.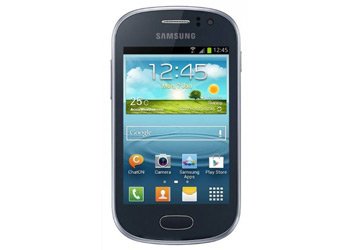 Prerequisites
If you're done with the paragraphs above, we'll give you the following pre-requisites to go through:
the only operating system which works with an update is Windows, so make sure your laptop's already using it;
charge the battery of your phone;
always keep in mind that USB Debugging has to be enabled on the phone;
the security software that belongs on your notebook must be turned off;
USB drivers compatible with the Samsung Galaxy Fame Duos GT-S6812B have to be downloaded on the laptop;
download the on your notebook;
download Odin v3.09 from this page on the notebook, too.
Step by step instructions
When the requirements are behind you and the two packages are downloaded on the notebook, you should go ahead and begin the update. By performing this first action: extract, with WinRar or 7Zip, the packages from earlier. From this, several files will appear.
Choose the one that's called Odin v3.09.exe and launch it on the laptop. To move on, start your Galaxy Fame Duos GT-S6812B in Download Mode.
This has to be performed in the following manner: press and hold, at the same time, Home, Power and Volume Down. The next thing that will happen: a boot message will pop up. So press Volume Up to finish this step.
Now that the device is in that necessary mode, time for another batch of actions. Begin by establishing, by using the phone's USB cord, a connection between the handset and the notebook.
Move on with this: after the Odin ends by finding your smartphone, it will display a blue sign telling you that the two are now plugged correctly. In case it isn't, you can always repeat this part. B
ut if a connection's been created, you have to add the firmware file to the AP / PDA. Then check two boxes whose names are F. Reset Time and Auto Reboot. A box with Re-partition written close to it must be left unchecked. The next paragraph will tell you how to install the new firmware.
First of all, find "Start". Then be sure to tap it. The firmware's installation should not take more than 13 minutes (15 minutes tops).
When the VJANC1 official firmware has finally landed on your GT-S6812B, the latter's going to have "Pass" on its touchscreen and reboot. The phone and your laptop must now be unplugged from one another. This is where you should get a hold of the USB cable, remove it and wait for the unplugging to happen.
[sc name="banner-jos"]After being done with the previous task, the new firmware as to be experimented with. Which will be done by tapping Settings, then About Phone.
If something's not right with the VJANC1, the NANDroid backup file will help you get the phone's old ROM back on it. The bad thing about doing this is that the update procedure shall be revoked at once.
If you have questions for us, use the section below our tutorial.