How to Update Galaxy Note 10.1 GT-N8020 to KitKat 4.4.2 XXUDNF1
To effectively get your Galaxy Note 10.1 GT-N8020 up-to-date, you need to use firmware that works with it. We have such a tool in here. This tutorial comes with steps that'll feature the firmware on your tablet. So buckle up and upgrade your device!
Your tablet that will go through our steps today needs Android 4.4.2 KitKat XXUDNF1. This official firmware was launched this month. The countries it works in are the following: Germany (T-Mobile), Austria (T-Mobile), Croatia (T-Mobile), Hungary (T-Mobile) and Greece (Cosmote). The model you must use for this particular tool is the Samsung GT-N8020. You should never use a different tablet with this firmware. If you do, though, your gadget's going to need repair.
To know what you're up against, you should be aware of something. If you have a rooted device and you plan on getting this update, disadvantages will arise. They look like this: your tablet's going to lose its system partition, then its root access. However, there's good news: the gadget won't have its important data erased. Internal and external SD cards will suffer no negative consequences, either!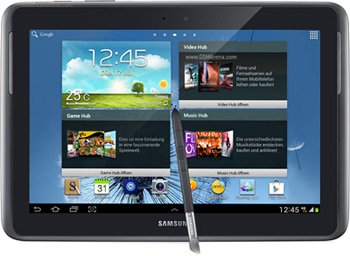 The benefits of this official firmware
Having the Android 4.4.2 XXUDNF1 on your tablet allows you to enjoy it so much more! This is a direct consequence of the fact that the upgrade delivers many different goodies. Before we get to them: the procedure won't bring bloatware or viruses.
The novelties shared by the new firmware start here. The tablet will soon enjoy faster CPU speeds and battery tweaks very soon. After the processor reacts faster and the battery life is improved, your tablet will have new features, too. There are also personalization options to go through. Also, prepare for new apps.
The update can be performed with Samsung's KIES software. This tool requires a gadget with stock ROM, though. If your own device doesn't sport it, then how about trying our guide? You can use it even if the tablet comes with no stock ROM.
Prerequisites
Our requirements for you go like this:
turn off, on your tablet, the programs that protect it from various damage (like viruses and such);
turn off the same programs that run on your notebook;
you should continue by creating standard backups;
perform a full NANDroid backup afterwards;
Windows must be the OS variant your laptop's equipped with;
install USB drivers for your Galaxy Note 10.1 GT-N8020 on your notebook from here;
the battery on your tablet has to be fully charged;
the tablet must feature a deactivated USB Debugging option.
Step by step instructions
Then, if your tablet's all done with these important preparations, it can be upgraded at last.
For starters, be sure to have your notebook still open. That's because our first steps needs you to download, on it, Odin v3.09 (available here). Now download the Android 4.4.2 KitKat XXUDNF1 for Germany, Austria, Croatia, Hungary and Greece on the same notebook.
Using WinRar or 7Zip, extract the packages. Now you should do the following: open Odin v3.09.exe on your laptop. Having just done that, continue with the following action: boot the tablet in Download Mode.
We need you to perform this step by pressing and holding Home, Power and Volume Down at the same time till you come across a boot message.
When the screen contains it, you have to press only this button: Volume Up. Enter your Galaxy Note 10.1 GT-N8020 and notebook in a connection via the tablet's USB cord. Odin will start the search for your gadget; when the latter's finally discovered, you'll see a blue sign.
Add, for the next step, the firmware file to AP / PDA. Move on by doing this: turn on Auto Reboot and F. Reset Time. You should now uncheck Re-partition.
The new firmware can be flashed on your tablet starting now. Do it by tapping the option labelled "Start".
The whole installation will take some 11 minutes. Should you have to wait more than 15 minutes, repeat our previous steps will everything is alright again.

The installation will end with a message reading "Pass". The GT-N8020 should reboot afterwards. Next up: unplug it from your notebook.
Like this: take out that USB cable. To have a look at the new firmware and its goodies, tap Settings, then About Tablet.
After you've enjoyed the novelties for a bit, time to see if you want to keep the update or not. In case you wish for the previous ROM, use the NANDroid backup file. Its job: to revoke the upgrade and deliver that ROM.
Use the comment section under our tutorial for your questions!