Enter Recovery Mode on rooted Android devices
An Android device that is not yet rooted is a device that won't bloom into its full capacity. Which means you won't get to see the wonders of an improved battery, of new features, of root-only apps that can be flashed on your phone after you root it and so on.
A rooting will only be valid if you work with a custom recovery image (in case you wish to, say, flash a custom ROM on your device using an unofficial way). For that, you will need to first find TWRP or CWM online, download one of them on your Android device and then enter something called Recovery Mode if your tablet (or your phone) is in rooted mode. But how to enter that mode, you ask? We will provide an answer to your question in this tutorial.
Every rooting guide comes with this warning: root your gadget (be it a handset or a tablet) and you will see that its warranty will become void shortly after. As usual, what you should do to retrieve the warranty is to perform one of the following tasks: upgrade your device to official Android tools or downgrade the smartphone to stock firmware.
For our guide on how to enter Recovery Mode on a rooted Android device, it won't matter what gadget model you own. What's more, once you boot your device into that mode, you will not experience issues. Now let's find out how to successfully do that.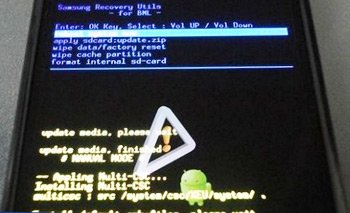 Requirements
Before you know the method used for today's procedure, you need to mind some requirements:
And that's all for our general set of compulsory pre-requisites. If you followed them all, you should be ready to follow the steps below.
How to get your device in Recovery Mode
To enter a rooted Android device in Recovery Mode, you must press some keys that are part of the tablet or phone model you use. To do that, you will need to power the said gadget off beforehand. Then have patience for a few seconds.
[sc name="banner-jos"]After that, make sure you simultaneously press and hold Power + Volume Up; do that for a couple of seconds, then wait. When the Recovery Mode appears on your device's touchscreen, you will know that everything went well. If it did not, redo these tasks from the beginning.
Then, when you are done, you will have to go to Google Play. From there, find to download on the tablet or handset of your choice. Once it's downloaded and saved on the device, you should launch it and wait for a menu to pop up.
This menu should include the following options: Power Off, Reboot, Recovery and Bootloader. Opt for the one that says Recovery, then have patience till your gadget restarts into the Recovery Mode.
After the smartphone (or tablet) is in the Recovery Mode, you can follow a rooting tutorial and learn how to flash various tools on your device after it's rooted.