How to Flash Android 4.2.2 ZNUCML5 on Galaxy Mega 6.3 GT-I9200
Android 4.2.2 can be added to your Galaxy Mega 6.3 GT-I9200 via ZNUCML5. This official firmware is fresh on the market and its target is China.
If you wonder how the Android 4.2.2 can end up on your smartphone, we'll show you around. But only if you own the Galaxy Mega 6.3 GT-I9200. Using a different handset will lead to this: bricking. So to avoid that, be sure to use the correct model. If you already do, you need to know this should your device be rooted: the root access shall be revoked. But look on the bright side: all of the important data and internal/external SD cards will not be damaged.
With that in mind: the smartphone will end up with a new Gallery app with superior speed when loading, a new set of sounds for wireless charging and low battery bug fixes. That's not all you'll get to use: a USB debug white-list, the possibility to long-press the WiFi and Bluetooth icons in Quick Settings in order to toggle the on/off state and a whole new set of download notifications will also be offered. The new firmware has no Bluetooth audio streaming bugs.
There's an activated KIES logo when it comes to the ZNUCML5. That allows you to update, if you want to, the handset via Samsung's KIES. In that case, the Samsung Galaxy Mega 6.3 GT-I9200 needs a stock ROM to be installed on it beforehand.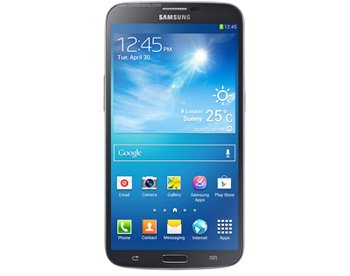 Prerequisites
This set of requirements is absolutely needed for the upgrade:
USB Debugging should be activated;
if you've already created a standard backup, you should also create a full NANDroid one (the guide is here);
charge the battery unit;
the laptop must feature USB drivers on it (so go and download the ones compatible with the phone);
use a notebook which is running Windows instead of Linux (or Mac);
there are security solutions running on your notebook and smartphone, so deactivate them for the time being.
Step by step instructions
Your first move regarding the update is this: download a couple of packages on your laptop. They are called Jelly Bean 4.2.2 ZNUCML5 (the China version is on this page) and Odin (available here). Inside them are several files that must be unzipped on your notebook. The method you should use: WinZip. Or you could opt for 7Zip.
After that you need to do this to boot the handset in Download Mode: after you're done pressing and simultaneously holding Home, Volume Down and Power, you have to stop doing that and instead press Volume Up after a warning display comes out.
The following should happen once you're done with the booting: open the Odin as an Admin on your notebook.
The next step you need to attend to tells you to plug your Samsung I9200 to the laptop. The USB cord will be suitable for this part. After you use it, the Odin will look for the handset and, when it locates it, you should wait for this: a yellow ID:COM box and "Added!!".
If you're having troubles with the plugging, you need to use a different USB port. Or just go to the USB drivers and make sure they're flashed on your notebook again.
When this step is finished, you can do as follows: tap BL, select a file with BL in the name, click on AP, opt for a file with AP in the name, tap CP, choose a file with CP in its name, tap CSC, opt for a file which has CSC in the name, tap PIT and select a file with an extension that has .pit in it.
Here is what you will be asked to do next: activate several boxes. They are called as follows: Re-partition, F. Reset Time and Auto Reboot.

The final step: begin the flashing of the new Android 4.2.2 official firmware. And that is done via this method: tap "Start". The next stage deals with the installation starting and then ending after a couple of minutes. If the handset reboots and it displays "Pass", the waiting is done. So disconnect, next, the Galaxy Mega 6.3 GT-I9200 from your laptop.
The ZNUCML5 can be launched by doing the following: tap, on the smartphone, the option called Settings. Second: tap About Phone. There you will find the new firmware and take it out for a test or two.
In case you find something wrong about it, the NANDroid backup file is ready to restore your device to its previous ROM. However, this means that the update process will soon be revoked.
We are ready to answer your questions. So make sure you leave them in the field below!