How to Root LG Optimus Logic
LG Optimus Logic LGL35G is only one step closer to joining other countless smartphones which are already rooted. This tutorial is aiming to tell owners of this device how they, too, can revel in the advantages that this procedure offers for it.
One of the many pros is the following: you will be able to flash things like custom ROMs, root-access applications and many other countless tools that will help make the user experience much more enjoyable than it currently is.
Requirements
Of course, there are some cons that come with the rooting of your Optimus Logic LGL35G (Straight Talk version). The one you are definitely going to find annoying: the handset will no longer have its trademark warranty on-board. But there is one main way to make it find its way back onto your phone, and that's by unrooting the latter.
We will write a guide on how to perform this in one of our future posts. So, if you find you wish to unroot the Optimus Logic, have some patience and we will indicate the steps you need to follow for this purpose soon.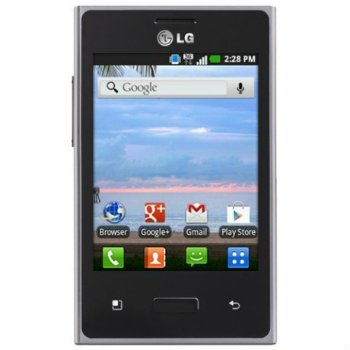 But for now, what is one to do if one needs to root their smartphone? Here are our requirements for this questions: charge the battery of the Optimus Logic, make a backup of its data and use a laptop whose operating system is Windows.
Important instructions
The second part of this tutorial arrives with the steps which are going to make the rooting of the device easy to perform.
For first step you must locate an archive called and make sure to flash it on your laptop, then extract its files to the latter's desktop.
After the installation and the extraction of the archive happen successfully, you should now pay attention to step number two which looks like this: turn on, on the Optimus Logic, something that is known as USB debugging; to do it without issues, go to your device's Menu, click on Settings, be sure to select Applications, choose Development and tap on USB debugging. You've now enabled this option and you can now proceed to the enabling of another option, Unknown sources. To do so, follow our lead by accessing your phone's Menu, opting to Settings, choosing Applications and then tapping on Unknown sources.
[sc name="banner-jos"]Step three will require you to do the following after you've turned on the previous option: plug the smartphone to your laptop by using the USB cord of the Optimus Logic LGL35G. Once that done, you will have to double-click on OneClick-Root-CWM.bat file; the latter is on the comp's desktop.
In step four a number of guidelines will appear on the display; do what they instruct you to perform, then, when you've completed this task, have patience until the handset starts to root. In our tests, this took a couple of minutes till it completed. After the rooting phase is over, your LG Optimus Logic is going to also sport a custom recovery image. Try and find some root-only applications and flash them on your smartphone. Enjoy!