How to Install Android 4.0.4 UBAND1 on Galaxy Ace IIx GT-S7560M
Galaxy Ace IIx GT-S7560M is going to savor new features after an update is performed on it. To make sure you perform this procedure successfully, you have to follow the current guide.
Only the Galaxy Ace IIx GT-S7560M can enjoy Android 4.0.4 Ice Cream Sandwich UBAND1. After being released earlier this month for Mexico (Telcel), the new firmware was aimed at this phone alone. Stay away from another device because you'll eventually brick it.
Due to its KIES logo being turned on, the firmware can be installed on the handset with Samsung's very own KIES. For this method to actually work, check for stock ROM on your smartphone. If there is such a thing, the upgrade can be used with this option. In case the phone is not running stock ROM, you'll need to use this guide.
The Android 4.0.4 in its updated form is a source of many goodies. They offer new features and improved screen rotation. Having the phone upgraded also means better phone number recognition and new apps. The camera on your smartphone will be loads better than before, too. There are also many security improvements. Your device will end up a much better one performance-wise.
Whenever a rooted gadget receives an upgrade, several disadvantages arise. The one to affect you the most: root access will be revoked. The second most important disadvantage: the smartphone will no longer have system partition; the latter will be deleted from your phone.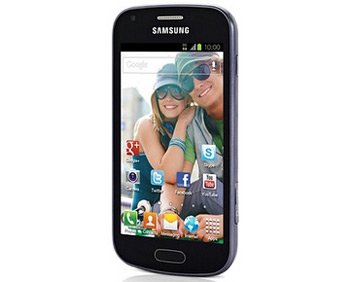 Prerequisites
Several pre-requisites are coming up next:
it's recommended to perform backups so as to save your handset's delicate data;
a full NANDroid backup needs to be generated, too;
charge the battery running inside the handset;
turn off the laptop's and then the phone's security firmware;
download, from this page, USB drivers for this phone on your laptop;
enable, on your Samsung GT-S7560M, an option called USB Debugging;
the laptop you use must operate only Windows as an operating system.
Step by step instructions
Now that you have your phone all ready for an update, there are some steps which need your attention. Begin with the first one.
For this step, your laptop needs to have Odin v3.09 and the . When the download is finished, you should move on with this step: extract what you just downloaded on the laptop. When you don't know what to use for this, we recommend WinZip or WinRar.
Odin v3.09.exe will need to be launched on the laptop now and, afetr you're done with this, restart the handset in Download Mode. For this particular part, press and hold these buttons first: Home, Power and Volume Down. The display should contain a boot message. Press Volume Up when you see it.
There's a USB cable in the box that comes with the smartphone. This is the tool you need to use now. The USB cord will make sure the phone is connected to the laptop.
If a blue sign comes up next on the display, you should know that the plugging is over. After it is, add the firmware file to AP / PDA.
If you've just completed this task, check F. Reset Time as well as Auto Reboot, uncheck Re-partition and begin the installation of the UBAND1 official firmware. If you're ready for the latter process, simply tap "Start".
The flashing of this firmware on the Galaxy Ace IIx GT-S7560M will be done as soon as you're offered this message: "PASS". The last thing your phone will do: it will restart.
Your next move should be this one: take out the USB cable. This action has the role of unplugging the handset from your laptop as a last step. This won't take too long.
[sc name="banner-jos"]What you should be doing now sounds like this: tap, on the handset, some options. Here they are: Settings and About Phone. After the new firmware is displayed, take your time and simply test its novelties.
If you're not really satisfied with them, the old ROM is very easy to restore. This process is helped through the NANDroid backup file created not very long ago. Be careful: by using this method of restoration, the phone's upgrade will be revoked from it.
If there are some things you didn't understand, we are waiting for your questions. Leave them in the section below this tutorial!