Install Android 4.1.2 DXUANA3 on Galaxy Trend Lite Duos GT-S7392
In our guide for today you will discover the steps which are about to update Galaxy Trend Lite Duos GT-S7392 to Android 4.1.2. The firmware that we chose for this procedure was first released last month for the Philippines.
By firmware we mean DXUANA3. The correct way to perform this tutorial is to have the Samsung S7392 instead of another handset. This device should belong to one of these carriers: Globe, Sun or Smart. Don't update a different model with this official firmware; if you do, it will be damaged.
After using the tutorial, your smartphone will get to use these goodies: a fixed frame of 60 fps, sync and connect email updates and extended Vsync timing. You should also expect the following: pop up play, Google Now, touch anticipation and then group cast. Your phone is going to feature free style widget, all share, triple buffering and a new keyboard. There are other novelties to look forward to: mini apps and automatic adjustment for the size of widgets.
For a rooted Galaxy Trend Lite Duos GT-S7392, the update will complicate matters. Like this: the system partition will be deleted and the device's root access will be revoked. Even if there are these cons, your phone will get to keep the internal and external SD cards; the important data will also be saved for latter use.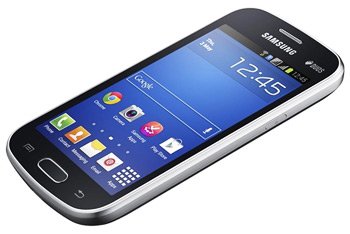 Prerequisites
We now have these pre-requisites for you to check out:
don't perform the steps on a laptop that doesn't use Windows;
activate USB Debugging on your Galaxy Trend Lite Duos GT-S7392;
don't forget to charge the handset if the battery is running low;
the notebook's security software must be deactivated for now (perform the same for the handset's security programs);
the notebook you own must have USB drivers for the phone downloaded and saved on it;
Step by step instructions
The requirements will then give way to our upgrade steps.
The one to start the guide asks you to go here and download the Jelly Bean 4.1.2 DXUANA3 official firmware for the Philippines (, and ) on the laptop. Another packages must then be downloaded on your laptop: Odin. The version for this tutorial can be located on this site. Save these files next. Then unzip them (with WinZip or WinRar).
The smartphone has to be entered in Download Mode for the next phase. To do it, make sure you simultaneously press and hold Home, Volume Down and Power.
When the screen welcomes you with a message of warning: press Volume Up. To move to the next step, you have to do as follows: open, on the notebook, Odin as Admin.
The next phase sounds like this: plug the smartphone to your notebook. The right tool for this step is the handset's own USB cable. After using it, the Odin will begin to locate the smartphone. After the device is discovered, a message will appear: "Added!!".
An ID:COM box in yellow will also be present on the display. If the connection has not been established, use a different USB port. Another option is this: install the USB drivers a second time (or until the plugging happens).
You should now tap BL, opt for a file with BL in the name, tap AP next and after that choose a file with AP in the name, tap CP, opt for a file with CP in its name, tap CSC, choose a file which has CSC in the name, tap PIT and opt for that file which sports an extension named .pit.
The next task to perform tells you to tap F. Reset Time, Auto Reboot and Re-partition. "Start" is the option you need to tap for the next step. Now simply wait for the DXUANA3 to be installed on the Galaxy Trend Lite Duos GT-S7392.
A successful installation will be signaled like this: the device shall go into a rebooting stage and "Pass" will come up. If these happen, you are now able to unplug your handset from your laptop.
[sc name="banner-jos"]After completing this last instruction, stay on your smartphone and do this: after you tap Settings, tap About Phone. Then you'll be able to play with the new firmware.
If you aren't attracted by it enough to keep it, the NANDroid backup file will make it very easy to get the previous ROM back. The upgrade will be revoked as a consequence, though.