How to Flash KitKat 4.4.2 XXU1ANE1 on Galaxy Tab 4 8.0 SM-T335
New firmware is out for Galaxy Tab 4 8.0 SM-T335. This is a tool which is necessary if you're on the prowl for a new Android 4.4.2 KitKat variant. Your tablet will have this version if you update it through today's tutorial!
The exact firmware we discovered for your tablet is labelled XXU1ANE1 and is available for few different countries so far. For those of you living in a Nordic country, Spain and Kazakhstan, this firmware is just the thing for your device. It just came out this month and the only tablet it accepts is the Galaxy Tab 4 8.0 T335 model. You will damage another model if you install this particular firmware on it.
When a device receives an upgrade and there's already root access on it, the procedure always will revoke it. This procedure will also delete system partition but it'll make sure to keep the gadget's important data. Apart from losing system partition, your tablet will not end up with damaged internal / external SD cards. But it will end up with stuff such as new apps, options to personalize the device and so on. If the tablet's battery had problems, it won't have them after the upgrade.
You cannot update your Samsung SM-T335 with KIES. Because the KIES logo isn't activated, you can turn to OTA as an upgrade option. It's recommended to use this on a device that sports stock ROM. But if the gadget does not offer something like this, you can turn to our guide instead and use it.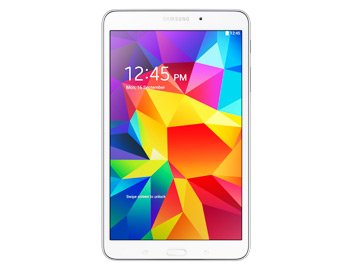 Prerequisites
Now that we're over the introductory bit, let's look at the requirements underneath:
charge the battery of your Galaxy Tab 4 8.0 SM-T335;
this upgrade needs a laptop with Windows pre-installed on it;
disable, on the laptop, all of those programs that offer protection against various security problems;
likewise, be sure to disable your tablet's security programs;
protect the tablet's data from damage by generating several backups;
generate a full NANDroid backup afterwards;
enable USB Debugging on the tablet;
USB drivers that work with your tablet must then be downloaded on your laptop;
Step by step instructions
After you're aware of what needs to be done before the tablet gets an update, let's see what steps you have to follow.
The one to begin it all tells you to download the following on your laptop: Odin v3.09 (from this page) and the Android 4.4.2 XXU1ANE1 for the , and . They are two packages which must be saved on that device next.
When you're done, be sure to look for WinRar and use it on them. If the unzipping is completed, some files will reveal themselves soon. Look for one whose name is as follows: Odin v3.09.exe.
Now that this particular file is launched on the device, restart your tablet in Download Mode. To perform this step, press and hold Home, Power and Volume Down until a boot message is seen on your screen. Then press Volume Up.
Take the tablet's USB cable and use it to ensure a connection between the Galaxy Tab 4 8.0 SM-T335 and the other device. Once the two are successfully plugged, the Odin will deliver a blue sign for you.
After seeing it, you will have to add the the firmware file to AP / PDA. Now do this: tick F. Reset Time and uncheck Re-partition. Your next move looks like this: check Auto Reboot.
You should now perform this action: begin the installation of the Android 4.4.2 XXU1ANE1 by tapping "Start". A couple of seconds after doing this, you'll see that the flashing commences.
This will end after you wait for around 14 minutes. No more than 15 minutes should pass; if they do, redo the steps. Then, when you notice a "Pass" message coming up in a green background on-screen, you'll be asked to wait till the tablet reboots.
The latter action will signal the following: disconnect the gadget from your laptop by taking the USB cable out.
[sc name="banner-jos"]Time to enjoy the goodies belonging to the new firmware. To open them on the tablet, tap Settings and About Tablet.
The features, apps and other novelties may prove ineffectual. If so, better use the NANDroid backup to retrieve the old ROM. If this is restored on the gadget, you'll be left without an update. However, you'll gain access to that ROM again.
If you have questions concerning the update, use the comment field under this tutorial!