Update Galaxy Tab 3 10.1 GT-P5200 to Android 4.2.2 XXUAMK8
If you're unsure about getting an update for your Galaxy Tab 3 10.1 GT-P5200, we recommend you do. It will greatly improve your tablet's performance and bring new features, too.
Germany (E-Plus), Romania (Vodafone), Italy (Wind), Hungary (Telenor, VDH), Croatia (TELE2), Cyprus are a part of the countries which XXUAMK8 has just been released for. With this new firmware, you tablet will feature Android 4.2.2. To install it well, you should use only the Galaxy Tab 3 10.1. Any other tablet will be bricked if you update it with our tutorial.
Out of these countries, only the Croatia one has a disabled KIES logo. This means that you will be only to upgrade the gadget via our guide or OTA (over the air). The OTA needs a Galaxy Tab 3 10.1 GT-P5200 which has a stock ROM. For all the other countries you can use the KIES method (which also needs a tablet with a stock ROM on-board) if you don't opt for our guide.
The list of new features brought by the update is varied. You will come across a new set of download notifications, a new set of sounds for wireless charging and no bugs when it comes to your tablet's Bluetooth audio streaming. You should also expect a new Gallery app, low battery bug fixes, the possibility to long-press the WiFi and Bluetooth icons in Quick Settings to be able to quickly toggle the on/off state and this: a USB debug white-list.
There's something you need to know about this official firmware: if used on a rooted Samsung P5200, several things will happen. Here they are: root access will be revoked and the system partition is going to be deleted. The following will not be affected: the important data and the internal and external SD cards.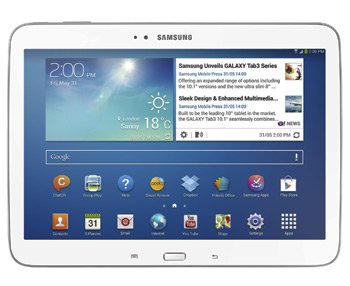 Requirements
The prerequisites are in the list below:
Step by step instructions
Go back to the laptop when done with the pre-requisites so that these files can be downloaded there: the Jelly Bean 4.2.2 XXUAMK8 and Odin. The Germany E-Plus version can be located , while the Romania Vodafone one . Go to to find the Italy Wind variant to download the Hungary Telenor version. On you'll see the Hungary VDH firmware and the Croatia TELE2 version. For the Cyprus version, we recommend going to . If you live in other country, you can check the firmware availability (search for "XXUAMK8" on the "Firmware" field),
Once the new firmware for your country and the Odin have been downloaded, they must be extracted with one of these tools: WinZip or 7Zip.
Proceed, next, to this task: enter the tablet in Download Mode. We advise performing these steps to make that happen: press and hold, at the same time, Volume Down and Power, stop once a screen of warning shows up and press Volume Up to be done with this.
Launch, on your notebook, Odin as Administrator and plug your tablet to the laptop. To ensure a successful connection between the two, you should use the tablet's USB cord, then wait for "Added!!" and an ID:COM in yellow to pop up. In case they don't: choose a different USB port to use or install the USB drivers again.
If a connection has been established, do this: tap BL, opt for a file with BL in the name, tap AP, choose a file with AP in the name, tap CP, choose a file with CP in its name, tap CSC, select a file which has CSC in the name, click on PIT and choose a file with an extension that has .pit in it.
You will then have to tap "Start" after these boxes have been checked: Re-partition, F. Reset Time and Auto Reboot. After "Start" has been tapped, the XXUAMK8 will be installed on your gadget.
[sc name="banner-jos"]If the Galaxy Tab 3 10.1 GT-P5200 restarts and then displays "Pass" on the screen, you can safely remove that USB cord and make sure the devices are not connected anymore.
What remains to be done next: go to Settings and be sure to tap it, then click on About Tablet.
The new firmware will await you in that spot. If you don't find it too enjoyable, the old ROM can be brought back via the NANDroid backup file.
For questions, please use the comment field situated below this post.