Update Galaxy Tab 4 7.0 LTE SM-T235 to Android 4.4.2 XXU1ANE8
Galaxy Tab 4 7.0 (LTE) SM-T235 is going to discover the delights of an update soon. If this is what you've always wanted for your tablet, you will get it. We have the right steps and we'll display them in today's guide!
Many update tools were released last month. Android 4.4.2 KitKat XXU1ANE8 is one of them. This firmware is official and it came out with your Galaxy Tab 4 7.0 SM-T235 in mind. This is why you should never use a different model for the tutorial; if you do that, you'll manage to affect it.
The improvements
The new firmware you're about to get a taste of is available for the Nordic countries. It was launched with its KIES logo turned on. This leaves you with two update options: our method and Samsung's KIES. If you opt for the latter, your tablet needs to function with stock ROM. If the gadget doesn't run this, our tutorial is here to help instead.
With the newest KitKat on-board, your device has many chances of improving its performance and other stuff. The CPU will deliver better speed, the battery will last more and you'll get new features. Customization options are also available for you. As are new apps and no bugs.
Your tablet will quickly lose its root access if you update it and it's already rooted. Also, your gadget is going to have its system partition deleted. No harm will be done to its internal and external SD cards. What's more, the tablet's data won't be erased.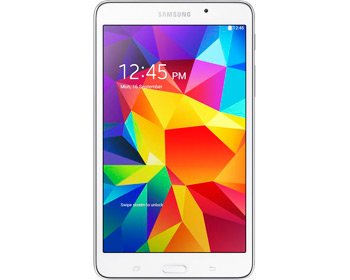 Prerequisites
These are the most important requirements you should complete now:
your laptop must be equipped with Windows;
the Samsung T235 must function with its security programs deactivated;
the notebook's security software have to be turned off, too;
you should download USB drivers for this tablet on your laptop from this place;
create a backup for the tablet's data;
generate a full NANDroid backup, via these tips;
activate USB Debugging on the tablet;
make sure the tablet's battery unit is fully charged.
Step by step instructions
The steps that make sure your tablet's upgraded the right way are displayed below.
Let's see how the first one sounds like. This step indicates the following task: download Odin v3.09 from this page and the on the laptop.
If you're done with the packages, unzip them with WinRar. The process will reveal many various files inside. Odin v3.09.exe is the one you should consider; this file must be launched on the laptop.
The step that has to be performed next is this: boot your tablet in Download Mode. If you don't know how: after you press and hold Home, Power and Volume Down simultaneously, a boot message will come up, so press Volume Up to enter the device in the recommended mode.
Your move now is the following: establish a connection between the tablet and your notebook with the former's USB cable. As soon as you notice that Odin begins looking for the tablet, you should wait for it to find the gadget.
When the latter's located, time to see whether or not a blue sign comes on-screen. Once it does, you can move on to the next step.
It tells you to add the firmware file to AP / PDA. The following boxes must be activated now: Auto Reboot and F. Reset Time. Re-partition has to be unchecked.
When these steps are completed, you can begin the update procedure by tapping "Start". The new XXU1ANE8 official firmware will get flashed on your Galaxy Tab 4 7.0 LTE SM-T235. The installation will be done when a message saying "Pass" pops up on the screen. Until it does, wait a bit.
[sc name="banner-jos"]Once the display contains that message, your tablet will start rebooting automatically. The device and your laptop should be disconnected now.
In order to correctly unplug your devices, it's best to just remove the USB cable.
Keep your tablet open, go to Menu, tap Settings and tap About Tablet afterwards. This is where you'll find the new firmware. Open it and enjoy the Android 4.4.2 in its updated state.
If none of its goodies are worth your time, the old ROM can be brought back. The NANDroid backup file will act as helper. It will also revoke the upgrade.
Leave your comments and questions in the box below this tutorial!