Update Kindle Fire to Android 4.1.1 Jelly Bean using MIUI v4.1 ROM
If you are not the patient type and want to experience the new Android 4.1.1 Jelly Bean, there are plenty of ways to do it, albeit not official ones. This time around we will instruct you on how to upgrade your Amazon Kindle Fire to the latest Android operating system. It all takes some steps and you are done.
The helper we found for our list of instructions is a custom ROM known as MIUI v4.1 ROM. As usual, this is not a legal way to obtain things. So don't expect everything to be breezy after you install the ROM (you will have to watch out for the usual bugs and whatnot). But overall, this is the best solution to update your gadget to a new OS.
This custom ROM is pretty special. It comes with several nice features, like for instance a Google Now, Contacts app, Home Launcher app and so on. The problems, other than bugs, which you are bound to come across are some weird restarts (when the tablet temperature is high) and an impossibility to take screenshots.
Requirements
Before we proceed with our list of what to do to get the MIUI v4.1 ROM on your Kindle Fire, here is what you need to have: the tablet needs to come with TWRP Recovery on it, it must have an USB cable for later use, you have to grab the package, do a backup of all that you think is very important on your tablet and, finally, load the gadget's battery till it announces it's fully charged.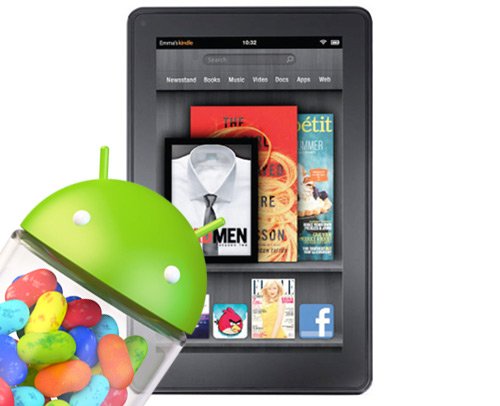 Which brings us to what it's all about: the actual steps that need to be followed accordingly. If you don't do that, you will not have a fully functional Kindle Fire with the Android 4.1.1 Jelly Bean installed on it.
Important instructions
The first step is to download the MIUI v4.1 ROM archive pack and then make a file copy into the internal memory card of the tablet. Once you are done with this, simply turn the tablet off.
Second step is to start the gadget and to enter into the TWRP Recovery mode. Should you not know how to do this, here is a how to: press the button for Power, look out for a triangle on the gadget's display and press the Power key once more.
Step 3: you have to generate a backup of the actual version of the ROM, to be sure that you can recover the data if you have problems. Then tap on the icon labeled Home; this will help you return to the recovery menu.
For step 4 you have to opt for Wipe.
Next comes the fifth step: click on the option called Wipe data and choose to reset the tablet to the factory settings. After this stage you must get back to the recovery menu.
Step 6 instructs you to do the following: choose an option known as Install.
In the seventh step you will need to choose the MIUI v4.1 ROM file, previously downloaded.
For the final step you have to click on restart the entire system. And with this you have the MIUI v4.1 ROM installed on the Amazon Kindle Fire tablet.
Update the ROM to 200 dpi
However, this custom ROM has a 160 dpi. Which means that not every single app will work with the gadget. We will tell you how to get applications from the Google Play Store.
[sc name="banner-jos"]First off, grab your Kindle Fire and open Google Play Store on it.
Then make an account on Google if you don't have one; if you do, enter in your account.
Next you have to leave your Google Store account.
Take a look up at the tablet's display and locate an app called Density Fix. When you find it, launch it.
After that click on Let's do this; the next action to take is to choose Yes. This reboots the device. All of these steps will make the tablet reach a 200 dpi, which is ideal for the majority of applications in the Google Play Store.