Best Android Music Players of 2013
There are many smartphones and tablets which come with music players, too. Others don't. If you're one of the users whose device doesn't have such an integrated feature, or you don't like the pre-installed one and want something better, we compiled a list of the best Android music players of 2013. Stay with us as we introduce them one by one.
Winamp
Winamp is a name that the majority of you are familiar with. With this music player you get things like integration with Last.fm, Shoutcast Internet radio, iTunes importing and many other exceptional features for your Android gadget. It doesn't matter what version of Android your device sports if you wish to on it.
DoubleTwist Player
DoubleTwist Player features a music/video/photo streaming service that is easy to connect to a PS3 and other such products. Should you wish to make this music player function as a Podcast subscriber, you can, because you won't have to employ your laptop for that to work.
DoubleTwist lets you get high quality album art in a legal way and it is the sort of music player that packs all kinds of possibilities. It's not completely free of charge, though. If you have an iTunes playlist, the DoubleTwist will sync with it smoothly. The same will happen in the case of Mac or laptop users. This app is available for free download, .
n7Player
Now on to n7Player. This one works best if you own a smartphone or a tablet packing a lot of power. It comes with the following: a modular way of interaction, a music interface that you can zoom in or out, an editor for tags and so on. n7player Music for Android is a rarity among music players.
That's because it is able to play the 3D MP3 format. Other than that, this nifty little tool has a bloatware-free and very easy to use user interface. The artist name will appear as an album artwork; which other music players cannot do. The application is available for free download, .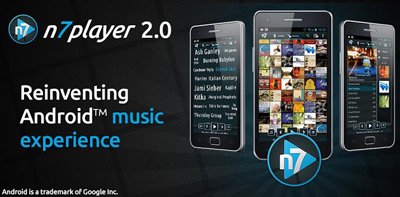 Neutron Music Player
Neutron Music Player is next on our "Best of 2013" list. It offers support for a large variety of audio file standards and it is very easy to use thanks to its awesome user interface. Moreover, you will be able to experience 32 and 64-bit audio sans your device freezing. Should your operating system be either Android 2.2 or later, you won't have problems with the Neutron Music Player. Among its many great offerings is the fact that it can become a Sleep timer, for example. The battery won't have much to suffer because of it. The full version costs $5. The free version is available .
MixZing
If you want something you can easily customize, we recommend MixZing. Even if it may appear boring after a while. Performance-wise, this player does its job well. The basic version is available for free, .
RealPlayer
[sc name="banner-jos"]
RealPlayer is one of a kind. Why? Because it offers users the possibility to not only listen to music, but also play audio files, pics and videos. The way to control this toy is by going to the Android home-screen directly. If you've never used an Android music player before, the RealPlayer has an easy to use interface which will help lots. You can use all sorts of audio file formats, because this tool is compatible with all of them.
The Android versions that it supports are each and every single one that Google have released so far. You don't have to .
Did you find something you think is great as your next music player for your Android gadget?