How to Flash Android 4.1.2 VJANE1 on Galaxy Fame Duos GT-S6812B
Where there's an update on Galaxy Fame Duos GT-S6812B, there's a way. If your device experiences a new Android version, you'll both benefit a lot. See how by keeping an eye on this tutorial.
An upgrade is always recommended. The reason behind this: your phone's OS will receive stuff which can improve its performance. Not only that, but you as an user will enjoy things that weren't there when you first bought your phone.
The improvements
Here to bring you all of this and more is Android 4.1.2 Jelly Bean VJANE1. Released this June officially for Brazil, the firmware delivers all the goodies that are expected of it. That being said, here is what the new tool brings: a new keyboard and extended Vsync timing. These first two novelties are followed by others. They're a fixed frame of 60 fps and touch anticipation. The rest of the additions are triple buffering, mini apps and group cast. Sync and connect email updates will also be part of your device. And so will Google Now, pop up play and an automatic adjustment for the size of widgets. Free style widget and all share conclude the list of update goodies.
The latest Android version has a KIES logo. It's turned on. This means that our guide isn't the only method you can use to upgrade smartphone. Another one is Samsung's KIES software. If this is what you should choose, your handset must come with stock ROM.
You should expect some disadvantages when updating a rooted device. The Galaxy Fame Duos GT-S6812B will lose its system partition and root access. The new firmware will thankfully not damage the device's internal / external SD cards or important content.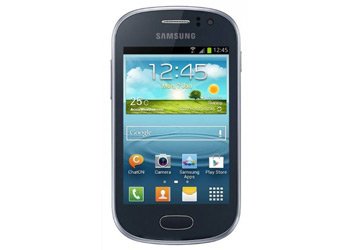 Prerequisites
You are expected to follow certain preparatory requirements next:
a backup is always necessary, which is why you should create one;
perform a full NANDroid backup;
make sure the phone has a fully charged battery;
deactivate the security programs installed on your handset;
then deactivate the ones running on your laptop;
perform this upgrade only if the notebook you use comes with Windows;
install, from this location, USB drivers for your phone on the laptop;
enable, on the Galaxy Fame Duos GT-S6812B, USB Debugging.
Step by step instructions
The steps which help flash the update firmware on your smartphone are lined below.
For the first one you need to download these on your laptop: the for Brazil (file name: S6812BVJANE1_S6812BZTOANE1_ZTO.zip)and Odin v3.09 (available on this page). Try this next: unzip the packages with WinZip.
Their extraction will reveal certain files. The one which is needed for the upgrade is Odin v3.09.exe. When you see it appear after the unzipping is done, you have to open it on the notebook.
Start your phone in Download Mode with the help of some steps. The latter action has to be done like this: simultaneously press and hold Home, Power and Volume Down; once a boot message is shown on the screen, release the three buttons and press only this one: Volume Up.
Now take the handset's USB cable out from the box. Use this tool for the following step. Which needs you to initiate a connection between the phone and your laptop.
After you use the cable we advised you to use, the Odin will begin to look for the S6812B. Upon discovering it, the same Odin is going to do this: display a sign whose color will be blue.
Your next task is this: tale the firmware file and move it to the AP / PDA. After that, activate these boxes: F. Reset Time and Auto Reboot.
Uncheck Re-partition as soon as you're done and then tap this: "Start". The activation of this option allows the installation of the upgrade firmware.
Around 15 minutes will pass till the flashing is finished. So expect this message to pop up when that happens: "Pass". This message will be displayed in a green background.
[sc name="banner-jos"]Then you'll see that your phone reboots. These mark the actual end of the firmware's installation. As well as the fact that you can go and disconnect the devices form one another.
Tap Settings on your handset next. Now tap About Phone. You should now have access to an updated Samsung GT-S6812B.
In case the phone's old ROM was superior to the new one, you can choose to restore it. To help you with this is the NANDroid backup file. Should you opt for this, your handset's upgrade will be revoked.
If you have a burning question, leave it in the comment box below.