How to Root Galaxy Tab 3 10.1 GT-P5200
Galaxy Tab 3 GT-P5200 has a great thing coming its way: a rooting. This is the sort of procedure which should be performed if you aren't satisfied with your device's general performance. Should that be the case and if you want brand new stuff for your tablet, go ahead and use our guide!
The name of the tool we help you root your gadget with is SRSRoot. It's one of the best methods you can use with the Galaxy Tab 3 GT-P5200. Some of the best reasons to use it: it provides improvement elements without being difficult to install.
When you settle on using this app, you'll end up with a much improved tablet. The advantages of this procedure are many and varied. For one, it provides your gadget with custom ROMs and root-only apps. The dual-core 1.6 GHz CPU installed on the device will move faster. New features and admin permission will be granted. The SRSRoot will also offer this: superuser permission. Your tablet's Android 4.2.2 Jelly Bean version won't be damaged by this procedure.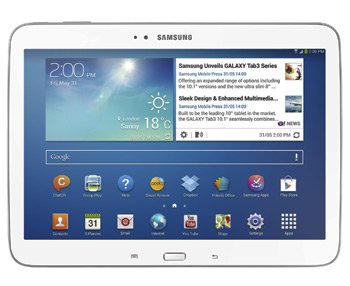 The benefits of this method
By installing that software on the tablet, its battery will go on much longer compared to how much it currently lasts. You'll gain access to plenty of customization options, too. Being able to unroot a gadget is very useful if you want to go through that. The SRSRoot is the same tool that can do this for your tablet. And it's powered by an SRS Server. It can also work with different device brands. And it does't affect the Android version running on the tablet.
A certain Build ID was used for this procedure: JDQ39.P5200XXUAMK8. Should you stick to another ID, the tool will accept it. It doesn't really matter what Build ID you use for your tablet's rooting.
But there will be consequences if you want to go through with this procedure. First and foremost: the warranty on your gadget will be taken away from it. Then, if you ever want to provide an update, your device will have to renounce its system partition and full access alike. The upgrade will never affect the important data or the internal / external SD cards on the Galaxy Tab 3 10.1 GT-P5200.
Prerequisites
Let's see what your tablet should experience if you want to root it:
the rooting we have for you must start only after you've created backups;
a full NANDroid backup needs to be created;
enable, on the Galaxy Tab 3 10.1 GT-P5200, an option which is called USB Debugging;
use a fully charged tablet;
be sure to have, on your laptop, USB drivers that should be downloaded from here;
the security software installed on the notebook must be turned off for now;
disable the laptop's security software;
the operating system which is sported by your laptop needs to be Windows.
Step by step instructions
So these were our pre-requisites. Don't skip any of them or you won't have a rooted gadget when the guide's done.
Here come the steps that will successfully root the tablet.
For the first of them you should download the SRSRoot app on your laptop via this address. Be sure to only use the site we recommend.
Then, when you're on that page, click on the download button you'll spot there soon. The installation of this software should be the next thing to do.
Once the app is flashed on the notebook, make sure you launch it. Now do the following: turn on Menu, then activate Settings and from there tap Unknown Sources.
Be ready to activate USB Debugging if you failed to turn this on when we specified what pre-requisites to follow.
Time for this step: plug the tablet and your laptop together via the tablet's USB cord. After your devices are connected to one another, prepare to have the software installed.
[sc name="banner-jos"]An option has to be activated for this to start. Here is that option: Root Device (All Methods).
The rooting of your tablet will start in a matter of seconds. When the process ends in roughly 11 minutes, you'll be able to start your tablet once more.
If the rebooting is performed as planned, your device will have achieved root status! Once that's true, have a go at the novelties you wanted to have for your gadget.
If you don't want them anymore, you can go and use the same method to take the root access away.
The comment section you'll see under this guide is meant for you should you want your questions answered!