Update Asus Transformer Pad TF300T to Android 4.1.1 Jelly Bean
We are back with another How to, but this time it's for an Asus business. More specifically for their Transformer Pad TF300T which does not feature the Android 4.1.1 Jelly Bean operating system update.
Like every other manufacturer today, Asus joined the trend of promising to upgrade a gadget with the latest OS soon. But, unlike other companies, this one did not disappoint. However, there are cases still where the Transformer Pad TF300T still runs on an older Android operating system. But to take care of that we have written a guide including instructions. If you follow them, you will get this OS on your copy. Because if you don't, you are going to miss on all the nice stuff the Jelly Bean sports.
In today's tutorial we will not make use of a custom ROM like we did in previous "How to" tutorials. Because this upgrade is doable manually via firmware. So there won't be any headaches about it. And it's all very easy if you follow every single instructions we are going to post on this page with care.
Requirements
You already know that there are a couple of warning that you will have to take into consideration first. Like, for instance, only use this firmware on the Asus. Or, if you want to do it on other Asus models, you should take responsibility if it all goes awry. Every step we have set up for our readers needs to be performed exactly as it was written. Or else the update process will not go well for your tablet.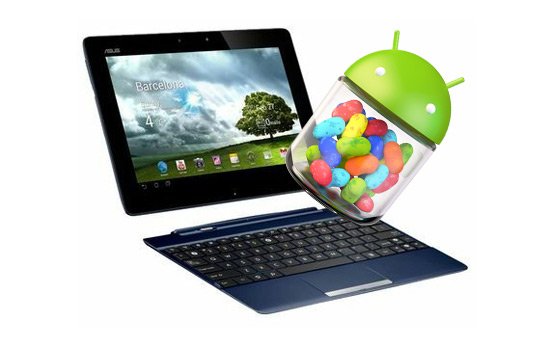 What you need for it to without a flaw are the following: the actual Asus Transformer Pad TF300T and a backup of the most important things you keep on it. Like for example passwords and so on. That way you will not lose them if this all backfires. Hopefully it won't if you keep in mind to take into consideration all the steps we included here.
Important instructions
Which are the following.
Check the Transformer Pad TF300T's SKU. Should you have the US version, the SKU is US, simple as that. Head over to Settings > About tablet.
Once you are there, check the Build number option. If, however, you have the TW build number, the SKU is TW. Again, simple.

The next step is to download either of the these stock firmware packages that relate to the SKU you have: US Firmware, TW Firmware or WW Firmware.
Once you do that, extract the firmware ZIP file on a laptop. That will offer a second ZIP file. The latter is going to deliver the Jelly Bean operating system upgrade.
Copying the extracted ZIP file to the internal SD card of the gadget is the next step.
What comes after this is the fact that you have to switch the tablet off. Make sure that it is really turned off before performing the next step. After the device is properly turned off, turn it back on. Wait till it boots.
When that is done, the tablet is going to send a notification text. You can find it next to the clock. That notification needs to be clicked if you want to proceed with the installation.
After you clicked on it, simply read what appears on the tablet's display. And with that you are done. At the and of the update process you can use the Android 4.1.1 Jelly Bean operating system and play around with its features and whatnot.