Update Galaxy Ace 3 S7275R to Android 4.2.2 XXUAMJ1 Stock Firmware
Android 4.2.2 and its goodies is what your Galaxy Ace 3 S7275R will experience after you install XXUAMJ1 on it. This is the latest firmware – official, might we add – that came out in October for your phone.
The Galaxy Ace 3 GT-S7275R is an August 2013 release. The stock firmware that we'll flash on it in today's guide was launched for these countries: the UK, Switzerland, Spain (Orange), Poland, Open Austria, Nordic countries, New Zealand (Vodafone), Netherlands T-Mobile, Australia (Optus), Italy (TIM), Ireland (Meteor), Germany (O2) and France (Orange and Bouygues).
Not all of these countries come with an activated KIES logo in the new firmware. Here are the ones that do: Switzerland, Poland, Open Austria, Nordic countries, the Netherlands, Ireland and Germany. All the other countries will have to use OTA (over the air) via the Software Update button under Settings menu or our guide; if you want to use the OTA option, your smartphone should be running an official ROM. Same goes for all of you who opt for the KIES software to update their device with.
Don't upgrade another phone with our tutorial; you will brick it.
The novelties
The new features which your handset will receive are these: a new Gallery app which delivers superior speed when loading, a new set of sounds for wireless charging and low battery bug fixes, the possibility to long-press the WiFi and Bluetooth icons in Quick Settings to be able to toggle the on/off state, zero Bluetooth audio streaming bugs, a new bunch of download notifications and USB debug white-list.
In case there's root access on your Galaxy Ace 3 S7275R, the upgrade will revoke it. Then it will erase the system partition but the internal/external SD cards won't be affected. The important data will suffer no damage.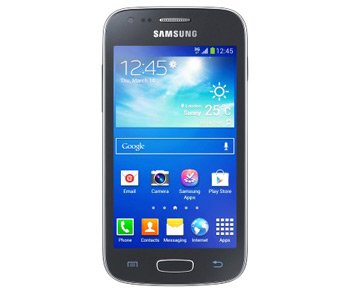 Requirements
Your smartphone should be prepared to receive the new firmware. For that, we give you these requirements:
Windows should be the operating system your notebook or comp has;
make several backups (a regular one and a full NANDroid backup);
flash USB drivers for the smartphone from this page on your comp or notebook;
your smartphone must have USB Debugging turned on;
if your device's battery is running low, charge it fully;
make sure the security software installed on the laptop and your Samsung S7275R are not turned on.
Instructions
Your laptop or PC will need to be turned on in order for you to download the Android 4.2.2 XXUAMJ1 stock firmware (you must select the version compatible with your country and your device) and Odin tool from this page on it. After they're both saved, you should unzip each of them, then launch the Odin as an Admin on the same notebook or comp that you like to use.
Be sure to boot the handset in Download Mode by pressing and holding Volume Down, Home and Power at the same time, wait for the Android icon to pop up along with a warning triangle so that you can let go of those keys and instead press Volume Up.
What now? You will need to connect the Galaxy Ace 3 S7275R to the laptop, so do that by using the phone's USB cord and then waiting till a yellow ID:COM box and "Added!!" appear on the display. If no connection was established, time to either flash the USB drivers again or use another USB port.
Here is what you should do next: tap PDA, select a file with CODE in the name, tap Phone, opt for a file with MODEM in the name, click on CSC, choose a file which has CSC in the name, tap PIT and choose a file with a .pit extension.
After you're done with this step, you should check Re-partition, F. Reset Time and Auto Reboot, click on "Start" and let the installation of the XXUAMJ1 begin.
[sc name="banner-jos"]You will know if the flashing is over if the handset restarts and displays "Pass". So unplug the devices from one another and go to Settings. From there, tap About Phone and look for the new firmware.
If you notice something strange about this Jelly Bean 4.2.2 official firmware, you need to restore your device to the old one via the NANDroid backup file, which means that the update process will be revoked.
Use the comment section below this guide if you have questions!