Update Galaxy Grand 2 4G TD-LTE SM-G7108V to Android 4.3 ZMUANC2
Galaxy Grand 2 4G TD-LTE SM-G7108V will look great with Android 4.3 among its specifications. That's because it is packed with a great selection of stuff your phone hasn't had a chance to enjoy yet. So here's our own method on how to feature this operating system!
The first thing you should know about the Android 4.3 Jelly Bean is that it completely changes your Galaxy Grand 2 4G SM-G7108V. The first things you'll notice after the upgrade: the handset's battery lasts way more than it used to and new apps will be on-board. Other novelties brought by this OS: new features and new tweaks to fully customize the device. There's no bloatware and also no security problems.
You can now update your smartphone thanks to the recently launched ZMUANC2. This official firmware has been out for China ever since this month. Its KIES logo is not enabled, which should tell you that Samsung's KIES is not an option to perform the update. But OTA is, as is our tutorial. However much you'd like to use the OTA method, be sure your phone has stock ROM before applying it.
Since the ZMUANC2 official firmware focuses on the Galaxy Grand 2 TD-LTE SM-G7108V, we strongly advise you to use only this handset; otherwise you will get a bricked phone.
If you decide to perform an update on a rooted smartphone, be aware of the cons that come with this. For example, your phone's root access will be revoked. The system partition that's running on it will be deleted. Nothing bad will happen to your phone's data or its internal and external SD cards.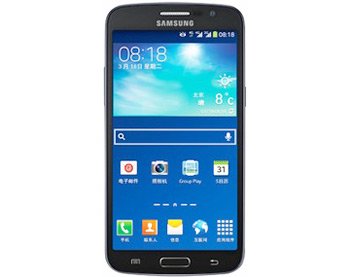 Prerequisites
Once you know what you're up against, prepare for the following pre-requisites:
the smartphone's battery needs a full recharge;
backups will help protect the phone's data against damage in case the upgrade's not successful;
here are USB drivers that have to be downloaded on your laptop;
it's also always a good idea to create a full NANDroid backup;
turn on USB Debugging on the handset;
use, for the update, a notebook that comes with Windows;
the smartphone's security software has to be turned off;
the notebook's security software has to be deactivated, as well.
Step by step instructions
To tackle the guide well, you have to start it by downloading several packages on your notebook.
The first of them should be Odin v3.09. The second one is the Android 4.3 JB ZMUANC2 official firmware for China. Choose an extraction tool for the packages and select Odin v3.09.exe afterwards to open it on the notebook. The G7108V has to boot into Download Mode, so make sure it does that by performing a short tutorial.
This one tells you to press and hold, at the same time, Home, Power and Volume Down. When the screen has a boot message to reveal, you will have to go ahead and press only Volume Up. Now enable the establishing of a connection between the handset and the laptop.
To perform this plugging between the two products, you have the phone's USB cord. Use it, then wait for a blue sign to come up in Odin telling you that the connection's been created.
After this, move on by adding the firmware file to AP / PDA. After this file's been added to that place, you need to uncheck Repartition, then check this box: F. Reset Time. Time for Auto Reboot to be checked, then you can begin the flashing of the new firmware.
As usual, the action which does this is the following: click on "Start". The flashing usually requires 10-15 minutes. After this period of time's up, the smartphone shall pop up with a "Pass" message on the touchscreen. In the next couple of minutes, the handset is going to start again automatically.

When the rebooting is done, you have to end the tutorial by unplugging the Galaxy Grand 2 4G TD-LTE SM-G7108V from your laptop. To gain access to the new OS, you can tap Settings on the device, then tap About Phone.
If the new addition convinces you that the old ROM was better, the NANDroid backup file is a means of restoring that one on the smartphone. To bring it back, though, the phone will have to sacrifice the upgrade process.
Should you have questions to ask us, kindly use the box under this post.